Abstract
ANTIBACTERIAL ACTIVITY OF POLYHERBAL FORMULATION AGAINST URINARY TRACT INFECTION
Preyenga R.*, Kayalvizhi B. and Alifiya Sultana H.
ABSTRACT
Medicinal plants have been extensively used for various ethno pharmacological properties from ancient days. Poly herbal formulation of the medicinal plants having antimicrobial property were assessed using five different plant species includes holy basil, curry leaves, bishop's weed creeper, betel and neem leaves. This poly herbal formulation was tested for the treatment of urinary tract infections. The test organism was characterized by different biochemical tests and phytochemical screening was performed for the aqueous and ethanolic polyherbal extract. The results were found to be promising for the poly herbal aqueous extract against the test organism isolated from urinary tract infected patients and the extract inhibited the test organism to a greater extent which confirms that it could be potentially employed as the antimicrobial agent for UTI infections.
[Full Text Article]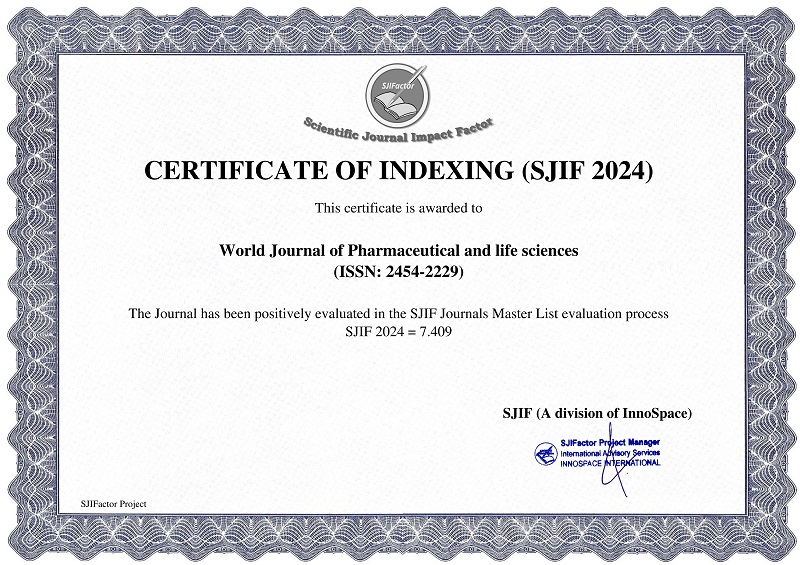 BEST PAPER AWARDS
World Journal of Pharmaceutical and life sciences Will give best paper award in every issue in the from of money along with certificate to promote research .
Best Article of current issue
Download Article : Click here