Abstract
DETAILED REVIEW ON PHYTOCHEMICALS FOR VARIOUS TYPES OF CANCERS
Jeevana Jyothi B.* and Ramya K.
ABSTRACT
Cancer is the global alarming issue and has become highly hazardous, highly prevalent health worry worldwide. Several strategies are developed to combat cancer with the aim of minimizing toxicity. Large research is done on medicinal plants and their bioactive phytochemicals which would show potential therapeutic efficacy and with minimal side effects compared to anticancer drugs of synthetic origin. Researchers are now focussed their research on development of formulations of chemotherapeutic drugs either by combining them with phytochemicals or by using herbal drugs alone mainly to provide treatment with minimal side effects. Therefore the aim of the present article is to present detailed account of various phytopharmaceuticals that are used for treatment of different types of cancers. This article can become a ready reference for search of anticancer drugs of herbal source with information on source, mechanism of action and their specific uses etc.
[Full Text Article]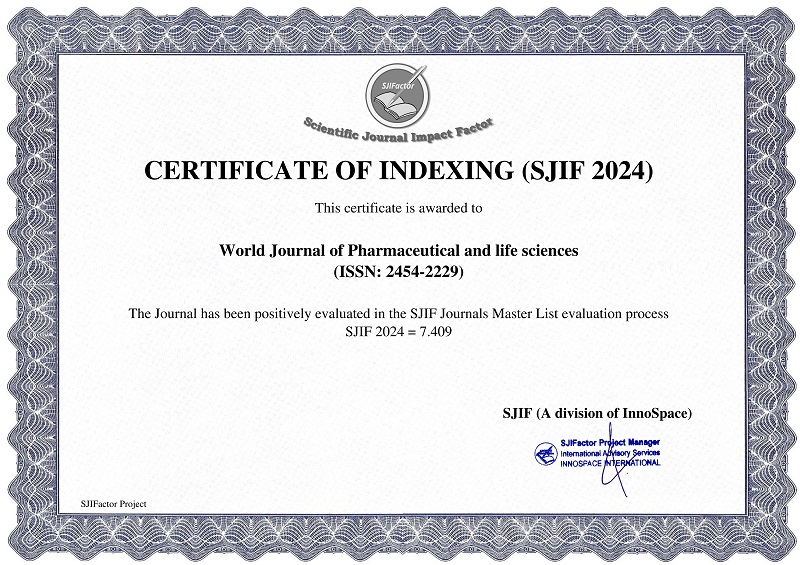 BEST PAPER AWARDS
World Journal of Pharmaceutical and life sciences Will give best paper award in every issue in the from of money along with certificate to promote research .
Best Article of current issue
Download Article : Click here