Abstract
PERCEPTIONS ABOUT 'MAKKALAI THEDI MARUTHUVAM' SCHEME AMONG OUTPATIENTS AT TERTIARY CARE PUBLIC DENTAL HOSPITAL – A CROSS-SECTIONAL SURVEY
Malathi S.*, Sujatha A., Vimala G., Poovitha M. and Manimalathi K.
ABSTRACT
Background: Non-communicable diseases are the major health problems in this 21st century. "Makkalai Thedi Maruthuvam? (MTM) scheme was launched to reduce non-communicable disease burden in the community. The present study aims to assess the awareness about newly launched "MTM? scheme among outpatients at tertiary care public dental hospital. Material and Methods: A cross-sectional survey was conducted among 650 outpatients visiting tertiary care public dental hospital. Data were collected using a customized pre-structured questionnaire which consists of socio-demographic profiles and data for assessing their knowledge about "MTM? scheme. The collected data were analyzed using chi-square test. Results: Among 650 participants, 528 participants responded. Out of the respondents, 68.4% participants were cognizant of MTM scheme. Among them, 42.9% participants were aware of this scheme through television and 46.8% participants were aware of the fact that this scheme is for treating non-communicable diseases. Almost 83.7% of the participants were willing to utilize this scheme. Approximately 1/3rd of participants feared about the usage of the prescribed drugs without the consent of their family physician. Conclusion: Our study shows fairly appreciable awareness among participants about the scheme. Policy makers should take appropriate measures to expand awareness about the scheme and its use among the general public for successful implementation of the newly launched scheme.
[Full Text Article]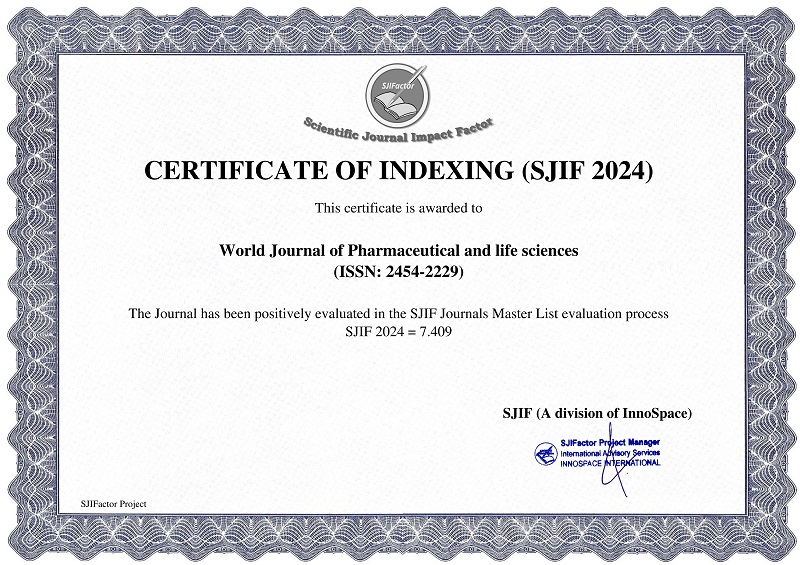 BEST PAPER AWARDS
World Journal of Pharmaceutical and life sciences Will give best paper award in every issue in the from of money along with certificate to promote research .
Best Article of current issue
Download Article : Click here