Abstract
TOPICAL GEL FORMULATION FROM CASSIA AURICULATA FLOWER AND ALOE VERA LEAF EXTRACT AGAINST SKIN INFECTION CAUSING BACTERIA AND STAPHYLOCOCCUS AUREUS CAUSED WOUND SCAR
Rama T.C. and *Ramachandran A. M.
ABSTRACT
This study was aimed to formulate the gel using four different extracts obtained from Cassia auriculata flower and Aloe vera leaf against skin infection causing bacteria. The extract was collected using soxhlet, and the extracts were characterized by FTIR analysis. Gel was formulated in two different formulations and tested against skin infection causing bacteria (Staphylococcus aureus, Staphylococcus epidermidis, Streptococcus pyogenes, Pseudomonas aeruginosa, Klebshilla pneumonia). From the study it shows that the formulated gels possess the antibacterial property against the tested organisms.
[Full Text Article]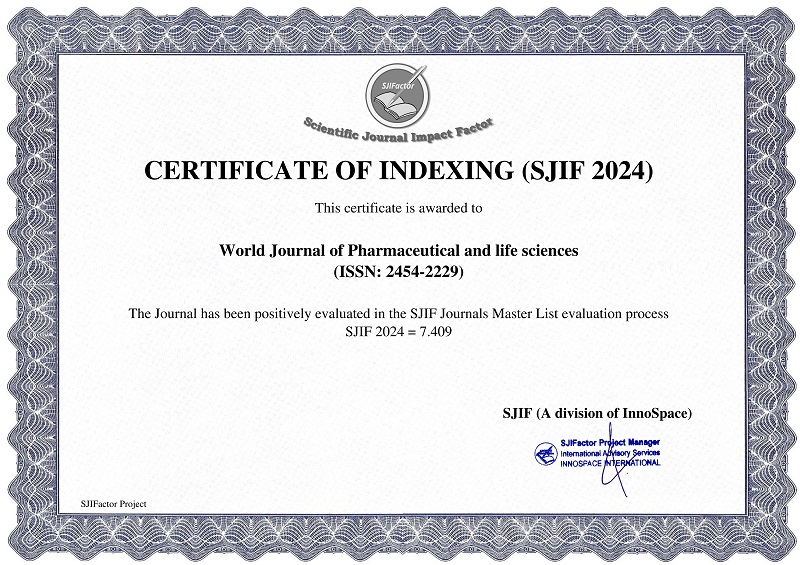 BEST PAPER AWARDS
World Journal of Pharmaceutical and life sciences Will give best paper award in every issue in the from of money along with certificate to promote research .
Best Article of current issue
Download Article : Click here