Abstract
EFFECT OF METHANOLIC EXTRACT OF PSIDIUM GUAJAVA LEAVES EXTRACT ON PHENYLHYDRAZINE INDUCED ANAEMIA IN ADULT FEMALE WISTAR RAT.
Ijeoma CA., Maduka SO., Meludu SC., *Nnodim JK., Onah CE., Amilo G. and Ezeokafor E.
ABSTRACT
Aim: This study was carried out to determine the potential of methanolic leaf extract of Psidium guajava on phenylhydrazine induced anaemia in adult female wistar rat. Material and Method: Thirty adult female rats weighing between 100g and 110g were assigned into six groups of five rats eat. Group A served as a healthy Control group. Group B, C and D were induced with anaemia using pheylhydrazine intraperitoneally for four days with a dose concentration of 10mg/kg body weight; this was followed by the oral administration of methanolic extract of psidium guajava with a dose concentration of (100mg/kg, 300mg/kg and 500mg/kg body weight) respectively for 14days. Group E was administered with 100mg/kg body weight of the extract only while F received 10g of phenylhydrazine with 500mg/kg body weight of extract simultaneously. Result: The results obtained showed that administration of phenyl hydrazine caused a significant decrease in packed cell volume as well as haemoglobin when compared with the control group (P<0.05). However, on treatment with the methanolic extract of Psidium guajava, the level of PCV and haemoglobin were significantly increased (P<0.05). Conclusion: This observation probably implies that methanolic extract of Psidium guajava could be of benefit in the treatment of anaemia related cases.
[Full Text Article]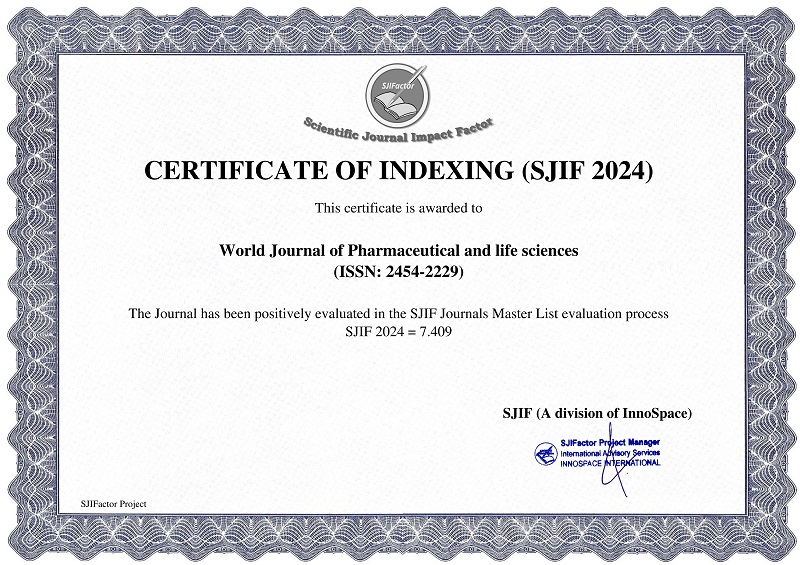 BEST PAPER AWARDS
World Journal of Pharmaceutical and life sciences Will give best paper award in every issue in the from of money along with certificate to promote research .
Best Article of current issue
Download Article : Click here