Abstract
PANCREATOTOXICITY OF ETHANOL EXTRACT OF DIALIUM GUINEENSE STEM BARK IN RATS
Abu* O.D., Alegun O. and Ojo A.U.
ABSTRACT
Aim: To investigate the pancreatotoxicity of ethanol extract of Dialium guineense stem bark in Wistar rats. Materials and Methods: Wistar rats (n = 35) weighing 160 to 180 g were randomly assigned to seven groups (5 rats per group). One group served as control, while rats in the treatment groups received varied doses of the extract (200 - 5000 mg/kg body weight, bwt) for 28 days. Indices of pancreatic function were measured. Results: Percentage increases in body weights of rats treated with ethanol extract of D. guineense stem bark were significantly reduced, relative to the control group (p < 0.05), but there were no significant differences in the relative pancreas weights among the groups (p > 0.05). Treatment with the extract did not elicit any significant differences in the activities of ?-amylase as well as pancreatic malondialdehyde (MDA) level among the groups (p > 0.05). Similarly, the extract did not significantly alter the normal architecture of rat pancreas. Conclusion: The results obtained in this study have shown for the first time that the plant extract is not toxic to rat pancreas.
[Full Text Article]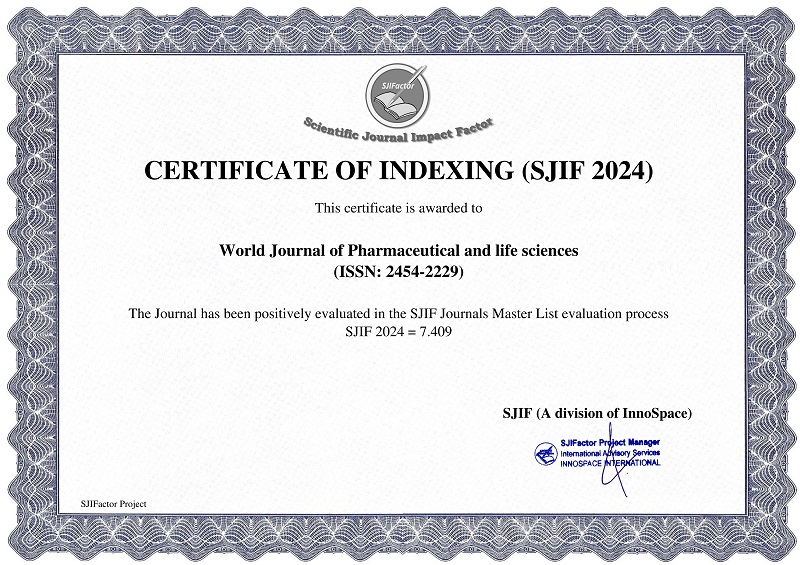 BEST PAPER AWARDS
World Journal of Pharmaceutical and life sciences Will give best paper award in every issue in the from of money along with certificate to promote research .
Best Article of current issue
Download Article : Click here