Abstract
CARDIOTOXICITY OF ETHANOL EXTRACT OF DIALIUM GUINEENSE STEM BARK IN RATS
Abu* O.D., Odagwe U.B. and Ojo A.U.
ABSTRACT
Aim: To investigate the cardiotoxicity of ethanol extract of Dialium guineense stem bark in rats. Materials and Methods: Wistar rats (n = 35) weighing 160 to 180 g were randomly assigned to seven groups (5 rats per group). One group served as control, while rats in the other groups were administered graded doses of the extract (200 - 5000 mg/kg body weight, bwt) for 28 days. Indices of cardiac function were measured. Results: Percentage increases in body weights of rats treated with ethanol extract of D. guineense stem bark were significantly reduced, relative to the control group (p < 0.05), but there were no significant differences in the relative heart weights among the groups (p > 0.05). Treatment with the extract did not elicit any significant differences in the activities of lactate dehydrogenase (LDH), creatine kinase (CK) and aspartate aminotransferase (AST) as well as cardiac malondialdehyde (MDA) level among the groups (p > 0.05). Similarly, the basal activities of the measured indices of cardiac function were not significantly different from the values after treatment (p > 0.05). Moreover, the extract did not significantly alter the normal architecture of rat heart. Conclusion: Ethanol extract of D. guineense stem bark is not toxic to the heart and could be included in herbal medicine for the treatment of diseases.
[Full Text Article]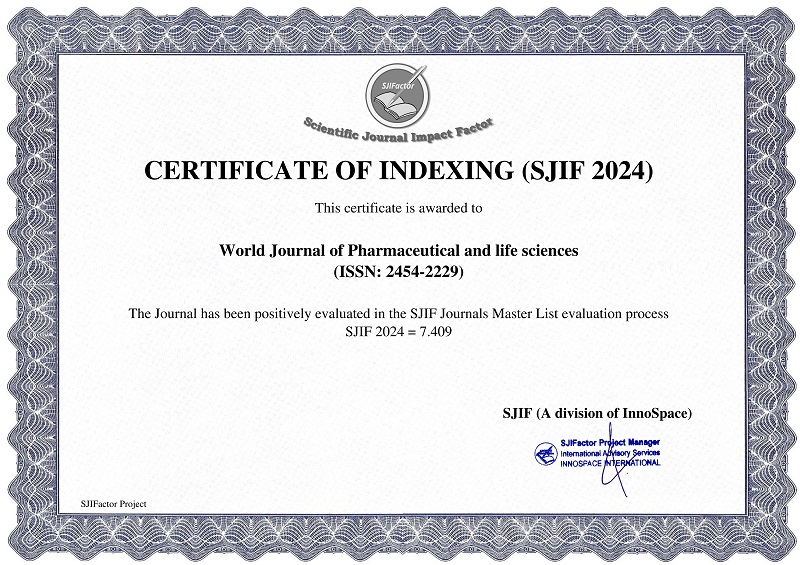 BEST PAPER AWARDS
World Journal of Pharmaceutical and life sciences Will give best paper award in every issue in the from of money along with certificate to promote research .
Best Article of current issue
Download Article : Click here