Abstract
ASSESSMENT OF LEAF EXTRACTS OF ARTEMISIA NILAGIRICA AGAINST ANTIOXIDANT, CYTOTOXIC AND PHYTOCHEMICAL ASSAYS.
Jayashree Sahoo and Sunita Bhatnagar*
ABSTRACT
Asteraceae is one of the families of medicinal plants with large no of genus involved in traditional medicine. A. nilagirica is traditionally used in management of epilepsy, nervous disorder, as diuretic, anti–inflammatory and skin disorders. In the present study solvent leaf extracts of Artemisia nilagirica were explored for its Phytochemical, Antioxidant and Cytotoxic potential. Phytochemical test revealed the main constituents as Flavonoids, Saponin and Tannins. Cytotoxic activity was found highest in chloroform extract (52.40%) at the dose 100 ?g/ml followed by acetone extract which showed 41.26% activity at the higher dose. In qualitative TLC based antioxidant assay, maximum no of antioxidant bands were obtained in Chloroform extract in the solvent system (Benzene: Ethanol: Amonium hydroxide(BEA).
[Full Text Article]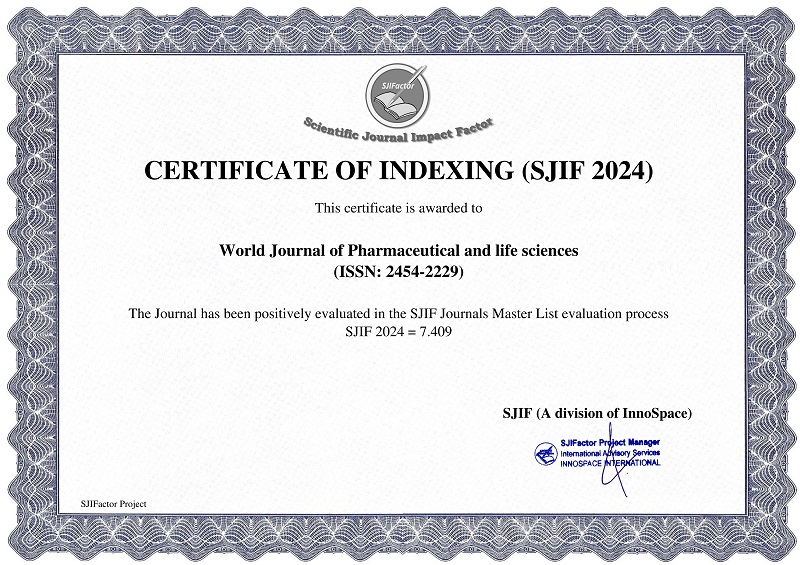 BEST PAPER AWARDS
World Journal of Pharmaceutical and life sciences Will give best paper award in every issue in the from of money along with certificate to promote research .
Best Article of current issue
Download Article : Click here