Abstract
TO STUDY THE PREVALENCE, COMPARISON AND CO-RELATION OF THE DIFFERENCES IN ACCEPTANCE AND THE IMPROVEMENT IN QUALITY OF LIFE IN PATIENTS OF AGE RELATED MACULAR DEGENERATION, DIABETIC RETINOPATHY AND MYOPIC DEGENERATION BY LOW VISION AIDS
*Dr. Jaishree Dwivedi M.S., Dr. Lokesh Kumar Singh, Dr. Alka Gupta, Dr. Anu Malik and Dr. Sandeep Mithal M.S.
ABSTRACT
Introduction A person with low vision is one who has impairment of visual functioning even after treatment and /or standard refractive correction and has a visual acuity of less than 6/18 to light perception, or a visual field less than 10 degrees from the point of fixation, but who uses, or is potentially able to use vision for the planning and/or execution of task.
[Full Text Article]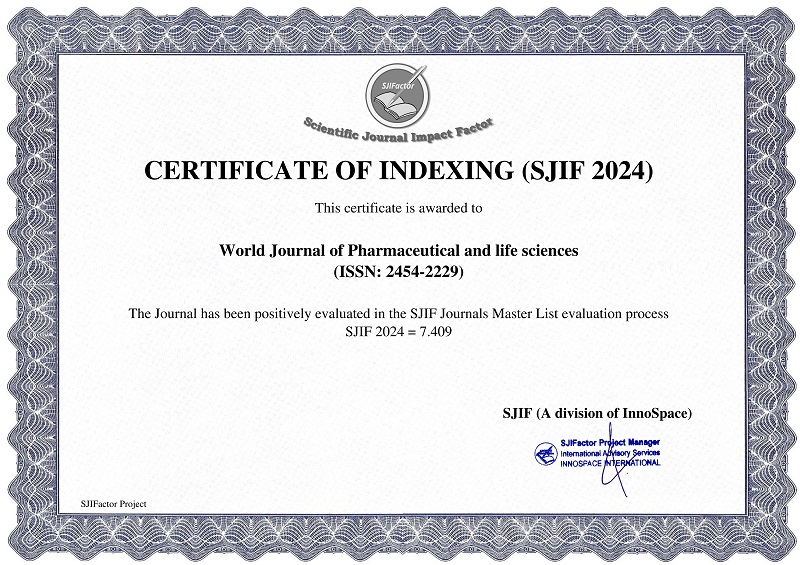 BEST PAPER AWARDS
World Journal of Pharmaceutical and life sciences Will give best paper award in every issue in the from of money along with certificate to promote research .
Best Article of current issue
Download Article : Click here