Abstract
A REVIEW ON VAIKRUTAPAHA CHIKITSA IN YONI SHITHILATA - VAGINAL LAXITY W.S.R TO YONI DRUDHIKARANA
Dr. Krithika N.* and Dr. Anupama V.
ABSTRACT
Yoni shithilata – Vaginal laxity is the looseness of the Vagina usually caused by physiological changes in a woman's life, such as childbirth, weight fluctuations, and hormonal changes due to aging and menopause. It damages the pelvic floor and devitalizes the mucosal tone of the vaginal wall. These events often lead to the development of vaginal atrophy; dryness; reduced sexual satisfaction thus causing physiological distress, and affecting a woman's quality of life, self-confidence, and sexuality. Various treatment modalities are currently available to manage these indications, varying from invasive vaginal surgery to more benign treatments like topical vaginal hormonal gels or hormone-replacement therapy. In Ayurveda, the Management of Yoni Shithilata in the form of vaginal tightening has been described under the concept of Yoni drudhikarana. Classical texts such as Chakradatta, Bhaishajya ratnavali, Anangaranga, etc., have described yogas in the form of Lepa, and Prakshalana for the same. This review aims to highlight the concept of Yoni drudhikarana which is not much explored and practiced nowadays. Thus, an attempt to improve the quality of life of women through Ayurveda.
[Full Text Article]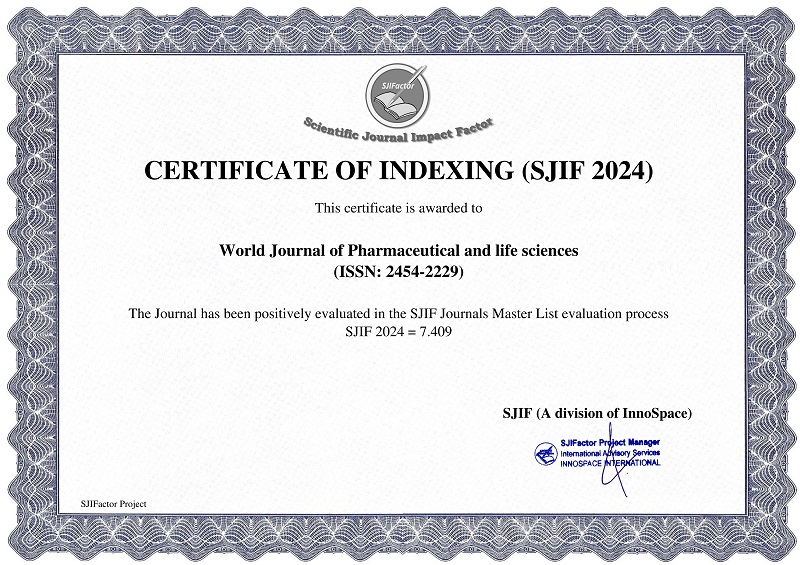 BEST PAPER AWARDS
World Journal of Pharmaceutical and life sciences Will give best paper award in every issue in the from of money along with certificate to promote research .
Best Article of current issue
Download Article : Click here