Abstract
A COMPARATIVE AND COMBINED CLINICAL STUDY ON EFFICACY OF UDWARTANA AND NITYA VIRECHANA IN STHOULYA W.S.R TO OBESITY.
*Dr. Mohammed Arif S. Mirzanaik and Dr. Umesh Holennavar
ABSTRACT
Sthoulya as one of the Ashta nindita purusha. Ati-sthula is one among these. Ati is excess and Sthula refers to bulkiness in body parts of abdomen, arms, thighs, buttocks and make them pendulous, which leads to excessive sweating, accumulation of mala, bad odour. It is due to the accumulation of medadhatu in excess amount which gives invitation to further major diseases like HTN, DM etc and also leads to various complications. Even though it is said as incurable, but it can be manageable with Ayurveda by following various treatment protocols and by decoding the Dosha-Dhatu sammurchana. A comparative and combined clinical study to evaluate the efficacy of udwartana and nitya virechana in sthoulya was conducted between 45 patients. They were divided in to three equal groups, 15 patients in each group. Patients of group A were treated with Triphana churna Udwartana procedure. Patients of group B were treated with Triphala kashaya Nitya Virechana. Group C patients were treatred with combined procedure of Triphala churna Udwartana and Triphala kashaya Nitya Virechana. Assessment was made on subjective parameters like Chala Stana Udara Sphik, Anga Gourava, Swedadhikya, Nidradhikya, Daurgandhya. Objective parameters were Body weight and Body mass index between. Observations were made before and after the treatment. Group C showed most significant results than Group A and B.
[Full Text Article]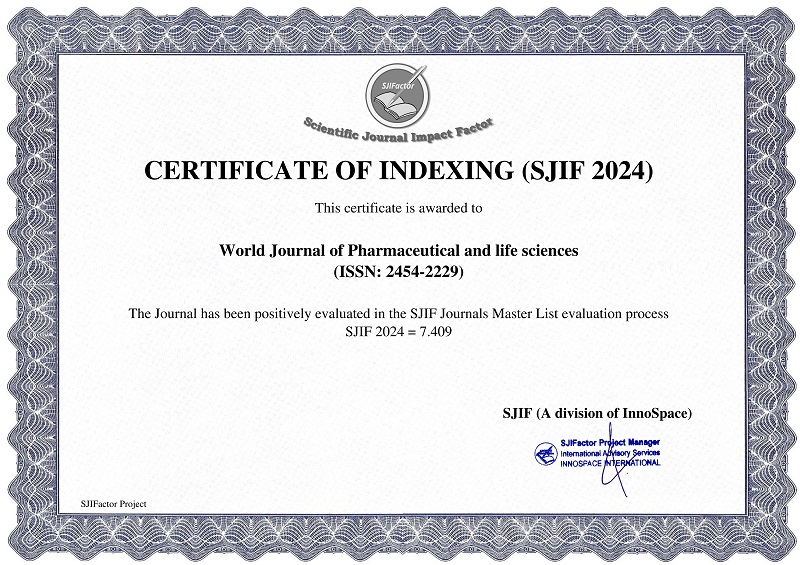 BEST PAPER AWARDS
World Journal of Pharmaceutical and life sciences Will give best paper award in every issue in the from of money along with certificate to promote research .
Best Article of current issue
Download Article : Click here