Abstract
METHOTREXATE OVERDOSE WITH BONE MARROW TOXICITY: A CASE REPORT
Anza A. S.*, Dona Benny, Arathy R. and Sini S. G.
ABSTRACT
Methotrexate (MTX) is a disease-modifying anti-rheumatic drug that has been used widely in dermatology, oncology and rheumatology fields. Our study concentrates on a fifty year old male patient who had developed MTX overdose with bone marrow toxicity by accidental intake of the drug continuously for a week. The patient developed neutropenic fever, oral mucosal ulcer and rashes along with increased serum aminotransferase and reduced count of leukocytes and platelets. With the diagnosis of MTX overdose, the drug was discontinued and the patient underwent treatment with leucovorin, granulocyte colony-stimulating factor and empiric broad spectrum antibiotics (Meropenem and Teicoplanin). Co-existing conditions were treated accordingly.
[Full Text Article]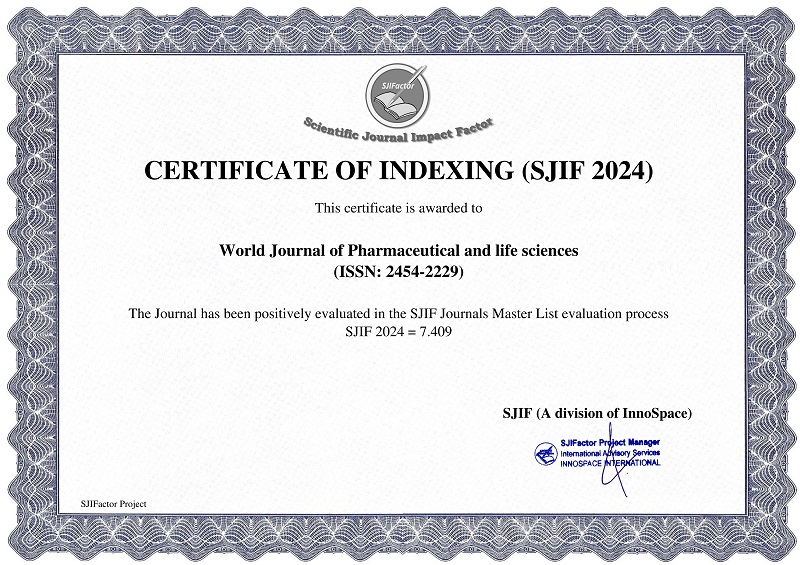 BEST PAPER AWARDS
World Journal of Pharmaceutical and life sciences Will give best paper award in every issue in the from of money along with certificate to promote research .
Best Article of current issue
Download Article : Click here