Abstract
DEVELOPMENT AND VALIDATION OF UV- SPECTROSCOPIC METHOD FOR SIMULTANEOUS ESTIMATION OF REMOGLIFLOZIN ETABONATE AND TENELIGLIPTIN IN BULK AND PHARMACEUTICAL DOSAGE FORM BY SIMULTANEOUS EQUATION METHOD.
Vashi Dhara* and Gamit Dharmistha
ABSTRACT
A simple, precise and economical method for simultaneous estimation of Remogliflozin Etabonate and Teneligliptin in combined dosage form has been developed. The ?max of Remogliflozin Etabonate and Teneligliptin were found to be at 236 nm and 246 nm, respectively. The calibration plot was found to be linear between concentration range 5-25?g/ml for Teneligliptin and 0.5-2.5?g/ml for Remogliflozin Etabonate with their correlation coefficient values (r2) 0.9993 and 0.9995. Limit of detection and quantification values were determined to be 0.0123?g/ml and 0.0373?g/ml for Remogliflozin Etabonate and 0.0289?g/ml and 0.0877?g/ml for Teneligliptin, respectively. Percentage recovery for assay was found to be 100.83% and 99.16% for Remogliflozin Etabonate and Teneligliptin, respectively. The method was found to be precise as %RSD was less than 2. The recovery results indicated that Remogliflozin Etabonate and Teneligliptin could be quantified by this procedure simultaneously in combined dosage form without the interference of common excipients. The simultaneous estimation method was simple, precise, accurate, reproducible and economical which can be efficiently and easily applied to pharmaceutical dosage form.
[Full Text Article]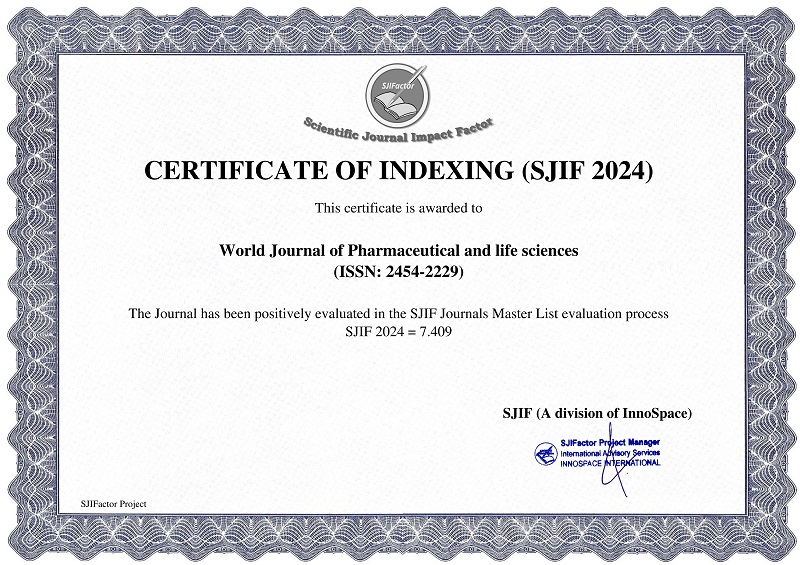 BEST PAPER AWARDS
World Journal of Pharmaceutical and life sciences Will give best paper award in every issue in the from of money along with certificate to promote research .
Best Article of current issue
Download Article : Click here