Abstract
ELEVATION OF WHITE BLOOD CELL (COUNT) DUE TO THE EFFECT OF ENDOSULFAN INDUCED SWISS ALBINO MICE (MUS MUSCULUS) AND ITS AMELIORATION BY WITHANIA SOMNIFERA.
Dr. Pryuttma* and Dr. M. C. Varma
ABSTRACT
Various forms of insecticides, pesticides and fungicides are used in agricultural fields to protect agricultural products from pests insects and fungus Endosulfan is an off-patent insecticide cum acaricide that is being phased out globally but is still used in large scale. It has become a highly controversial agro-chemical due to its acute toxicity potential for bioaccumulation and role as leukocyte (WBC) elevator. The present study was carried out to investigate the acute effect of Endosulfan on leukocyte parameters like neutrophils, Endosulfan, basophils monocytes and lymphocytes on Swiss albino mice (Mus musculus). Adult mice were segregated into three groups each group with six animals. Group I served as the control was administered with distilled water @ 0.1 ml /10 gm body weight Group II received Endosulfan @ 3 mg/ kg body weight, Group III concomitartly received Withania somnifera (Aswagandha) @ 150 mg/ kg body weight along with Endosulfan through oral gavaging. All the treatments were continued for three months. The toxic effects observed upon Endosulfan treatment include elevation of neutrophils count, eosinophils count, basophils count, monocyte count and lymphocyte count, which may be linked to various organ dysfunctions. On contrast, treatment of root extract of Withania somnifera was found to alleviate the toxic consequences of Endosulfan, thereby producing ameliorative effect.
[Full Text Article]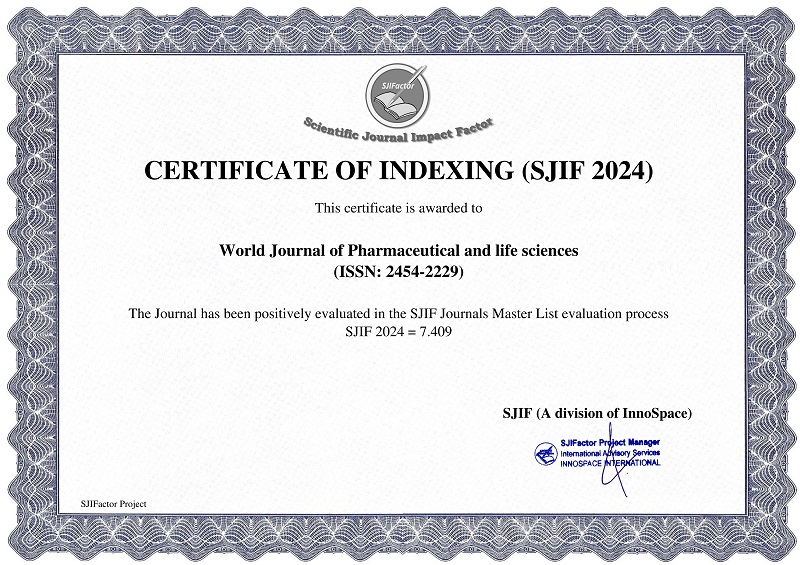 BEST PAPER AWARDS
World Journal of Pharmaceutical and life sciences Will give best paper award in every issue in the from of money along with certificate to promote research .
Best Article of current issue
Download Article : Click here