Abstract
A PARADIGM ON ENDOCRINE DISORDERS W.S.R TO PITUITARY GLAND DISORDERS UNDER THE LIGHT OF AYURVEDA
Dr. Manasa S.*, Dr. C. V. Rajashekhar and Dr. Vijayalakshmi S.
ABSTRACT
The pituitary gland may raise or lower one or more hormones. A hormone imbalance can cause physical or mood changes. At the same time, pituitary disorders often develop slowly. It may take a long time until you notice symptoms. Symptoms of pituitary disorders are similar to those of other diseases. Many people are misdiagnosed or go undiagnosed. The diagnosis of pituitary disease is generally uncomplicated. This is despite the high prevalence of occult pituitary adenomas in the general population, the widespread use of high definition imaging techniques, and the broad range of intra and perisellar lesions that can mimic pituitary adenomas. In this brief overview, the presentation, classification, and general investigation of pituitary lesions is followed by a discussion of the diagnosis and management of specific secretory subtypes. In this paper an attempt is made to understand the pituitary gland disorder in Ayurveda. There is no direct reference for the pituitary gland disorder but on the basis of its clinical presentation, it can be correlated with different entities which one explained either as symptoms or diseases, so it is difficult to give a single Ayurvedic term for it. It means that it is not possible to give the name to all the diseases. In this regard following points should be considered to diagnose it. As Charaka said, the same provoked humour, according to the diversity of causes and its localisation in different regions, produces many types of diseases. So Ayurveda gives guidelines regarding the management of unnamed diseases on the basis of complete knowledge variation in its Prakruti, Adhishtana and Samuthana, Vishesha, Dosha, Dushya, Srotas involved , Bala of the Vyadhi and Vyadhita is more crucial for a Vaidya. Therefore, treatment should be initiated after diagnosing the nature of the disease, the different regions of localisation and the special causative factors rather than coining a term in Ayurvedic paralance.
[Full Text Article]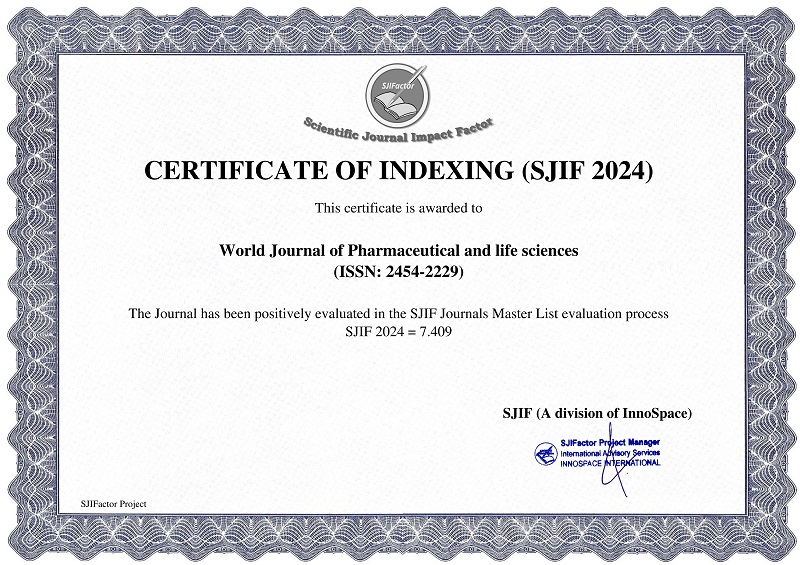 BEST PAPER AWARDS
World Journal of Pharmaceutical and life sciences Will give best paper award in every issue in the from of money along with certificate to promote research .
Best Article of current issue
Download Article : Click here