Abstract
ASSESSMENT OF CALCIUM CARBIDE RIPENED SWEET ORANGE (CITRUS SINENSIS L. OSBECK) ON THE BIOCHEMICAL PARAMETERS OF THE WISTAR RATS
Ogoun T. R.* and Tobia P. S.
ABSTRACT
The aim of this study was assessment of calcium carbide ripened sweet orange (citrus sinensis) on the Biochemical parameters of the Wistar rats. Twenty four (24) adult Wistar rats weighing between 126.9- 213.3 g was used for this study. The experimental Wistar rats were grouped into three and were allowed to acclimatize for two weeks at libitum. Five (5) ml/kg of natural and calcium carbide ripened Pineapple fruit juice were administered orally. At the end of the four weeks feeding period, the rats were sacrificed through cervical dislocation. Blood was collected by cardiac puncture, using 5ml syringes and 23G needles into blood sample containers for biochemical analysis using the standard biochemical methods. The biochemical parameters analyzed were ALP, AST, ALT, total bilirubin, total protein, albumin, creatinine, urea, total cholesterol and lactate dehydrogenase levels in the experimental animals and were compared with the control and natural ripened sweet orange fruit juice groups. The mean values of ALT, AST, ALP, total bilirubin, urea, lactate dehydrogenase and creatinine levels of calcium carbide ripened sweet orange fruit juice were significantly lower when compared to the natural ripened sweet orange fruit juice group. While, albumin, total protein and total cholesterol levels of the calcium carbide ripened fruit juice group were slightly higher than the natural ripened sweet orange fruit juice group. There was a significant difference of all the biochemical parameters except albumin and total protein at (P < 0.05). Sequel to the findings of this study, we can conclude that there is need for the requirement for institutional and legislative supports as well as policies to stop the utilization of harmful chemical compounds such as calcium carbide in the ripening of sweet oranges and other fruits.
[Full Text Article]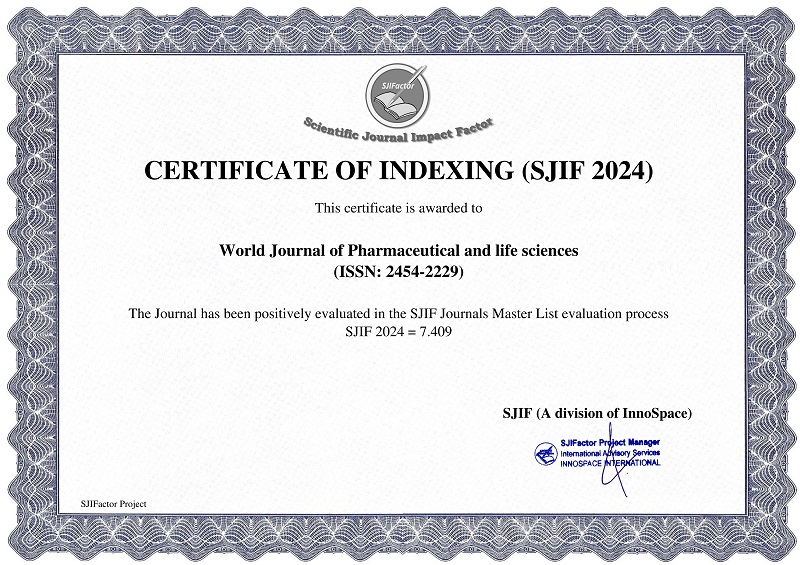 BEST PAPER AWARDS
World Journal of Pharmaceutical and life sciences Will give best paper award in every issue in the from of money along with certificate to promote research .
Best Article of current issue
Download Article : Click here