Abstract
A QUALITATIVE ASSESSMENT OF THE PERCEPTION, MISCONCEPTION, MYTHS AND FEARS TOWARDS COVID-19 AND THE VACCINATION AMONGST WOMEN ATTENDING ANTENATAL CARE CLINICS IN JOS, PLATEAU STATE; NIGERIA.
OKORO I. Ngozi, MD and OTOBO D. Daniel, MD*
ABSTRACT
The aim of this study was to qualitatively assess the perception, misconception, myths and fears towards covid-19 and the covid-19 vaccination amongst women attending antenatal clinics in Jos, plateau state; Nigeria. This was done utilizing a cross-sectional study that utilized a validated data tool with over 250 participants. The predominant false perception of the vaccine is that it was not effective enough to keep the recipients safe from the COVID-19 infection. Also, the most concerning misconception amongst the participants are those regarding fertility, death and the vaccine causing the corona virus infection amongst its recipients.
[Full Text Article]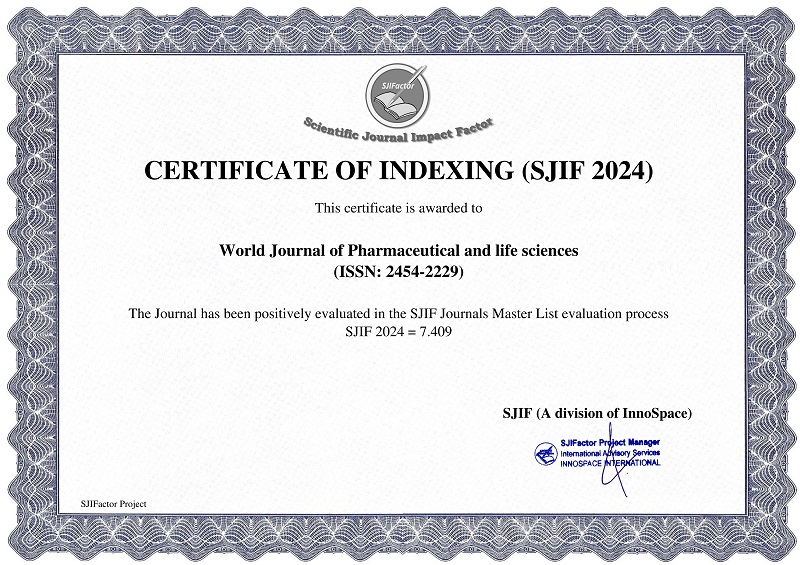 BEST PAPER AWARDS
World Journal of Pharmaceutical and life sciences Will give best paper award in every issue in the from of money along with certificate to promote research .
Best Article of current issue
Download Article : Click here