Abstract
A UPDATED REVIEW ON DIABETES MELLITUS
*Thakur Hitesh, Dr. R.B Sharma, Twinkle Garg.
ABSTRACT
Diabetes mellitus is a term used to describe a set of disorders that alter the body's blood sugar, or glucose. Diabetes is caused by either a lack of insulin production by the pancreas or a lack of insulin response by the body's cells. Diabetes is divided into two categories. Type 1 Diabetes and Type 2 Diabetes are the two types of diabetes. Insulin shortage and hyperglycemia are symptoms of type 1 diabetes, which is an autoimmune disease. Insulin is a hormone produced by the pancreas that aids in the transport of glucose into the body's cells for energy use. In India, diabetes prevalence increased from 7.1 percent in 2009 to 8.9 percent in 2019. IGT is anticipated to affect 25.2 million adults, with that number expected to rise to 35.7 million by 2045.Diabetes affected 1.3 billion Indians, or about four times the population of the United States. In 2017, 72.9 million people in India had diabetes, up from 40.9 million in 2007. Sodium-glucose co-transporter-2 (SGLT2) inhibitors (SGLT2i) are one of the most promising novel anti-diabetics, gaining attention even outside of its usual prescription for type 2 diabetes (T2DM). SGLT2 is a low-affinity, high-capacity glucose transporter that is expressed apically in proximal convoluted tubule epithelial cells and reabsorbs 90% of filtered glucose. SGLT2 inhibitors are a family of winkle GArgprescription drugs that have been licensed by the FDA for use in adults with type 2 diabetes in conjunction with diet and exercise to control blood sugar levels.
[Full Text Article]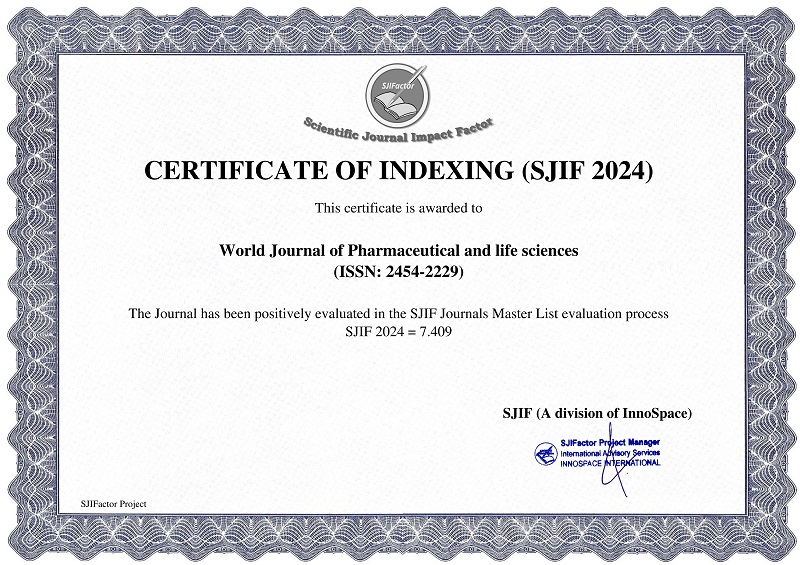 BEST PAPER AWARDS
World Journal of Pharmaceutical and life sciences Will give best paper award in every issue in the from of money along with certificate to promote research .
Best Article of current issue
Download Article : Click here