Abstract
EXAMINING THE PSYCHOMETRIC PROPERTIES OF THE JOB-SATISFACTION SURVEY (JSS) IN ADULT ADHD PATIENTS: THE ADULT ADHD - JOB SATISFACTION SCALE (ADHD-JSS).
Dr. Adel Gabriel*
ABSTRACT
Introduction: Adult ADHD is well known common psychiatric disorder, and is frequently associated with functional impairments and employment dissatisfaction among employed adults. The Job Satisfaction Survey (JSS-36) consists of thirty six items which was found to have a high reliability and evidence for validity in different employment sittings. However its psychometric properties have not been yet evaluated in adults suffering from ADHD. Objectives: The objective of this project is to examine the psychometric properties of the Job Satisfaction Survey in adult ADHD patients. Method: Participated in this study male and female consecutive consenting outpatients (18 - 65 years, n = 85) with confirmed diagnosis of ADHD. All patients held regular employment, completed the Job Satisfaction Survey (items = 36), and the Adult ADHD Quality-of Life Scale (AAQoL, 29 items). The study was granted approval by the Conjoint Scientific and Ethics Board at the University of Calgary. Results: Several exploratory principal component analyses of patients' responses on the JSS 36-item survey examining perceived satisfaction with employment, resulted in the final modified version "the ADHD job Satisfaction Scale (n=30 items), and in four theoretically meaningful constructs accounting for 57 % of the variance, in responses related to patients' job satisfaction. There was evidence for convergent validity of the scale's factor scores, and an evidence for concurrent validity with AAQoL component scores. The internal consistency reliability of the ADHD job Satisfaction Scale is 0.93 (Cronbach's alpha). Conclusion: The ADHD Job-Satisfaction scale (ADHD-JSS) is a 30 item, likert type scale, has adequate internal consistency reliability and a demonstrated convergent, concurrent, and construct validity. It could be used reliably in research to measure the satisfaction to one's job, among adults with ADHD. Also, the ADHD-JSS could be used by employers to evaluate employees areas of dissatisfaction, with the goal of improving the overall work productivity.
[Full Text Article]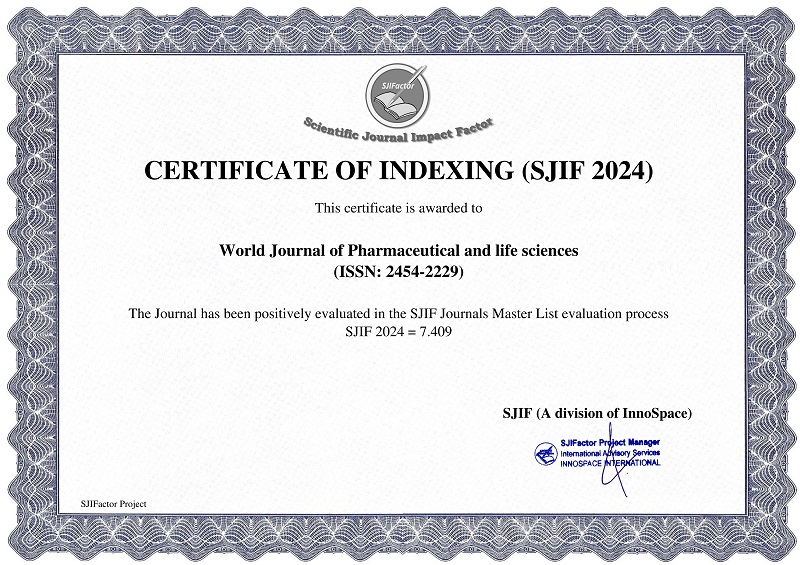 BEST PAPER AWARDS
World Journal of Pharmaceutical and life sciences Will give best paper award in every issue in the from of money along with certificate to promote research .
Best Article of current issue
Download Article : Click here