Abstract
STRUCTURAL CHANGES IN SANDHI WITH SPECIAL REFERENCE TO AMAVATA A REVIEW
*Abhishek Gaur, Dr. Ashok Kumar Dwivedi, Dr. Renu Tripathi and Dr Mini K.V.
ABSTRACT
Ayurveda, the Holistic branch of science is welcomed globally for its rich heritage and everlasting principles and concepts. It stems from the ancient Vedic culture and is considered to be the oldest healing science. A joint is a point where two or more bones or cartilages meet. It's a device that helps to move around. Immovable joints, on the other hand, are designed for growth and may allow for molding during childbirth. In Ayurveda, Sandhi is a technical word indicating that it is a place where two or more bones meet together and the Sandhi may be fixed type or with less or more movement. There are eight types of Sandhi. They are Cheshtavant (movable) and Sthira (fixed). He has also identified the different locations of Cheshtavant and Sthira Sandhi in different parts of the body. This means movable joints are in Shakha (limbs). Amavata. Vata dosha prakopa and Ama formation takes place simultaneously due to their respective causative factors. Thus produced Ama circulates in the body driven by the vitiated Vata exhibiting an affinity to get lodged in the Sleshma Sthana specially Sandhi. This circulating Ama in Dhamanis interacts with Sthanika Vata, Pitta and Kapha dosha giving rise to virulent Ama. It becomes qualitatively heavy and viscous, facilitating Sroto abhishyandana and Srotorodha. These chain of pathological events results in the disease Amavata. Rheumatoid arthritis affects the lining of the joints, causing a painful swelling that can eventually result in bone erosion and joint deformity. The inflammation associated with rheumatoid arthritis is what can damage other parts of the body as well. While new types of medications have improved treatment options dramatically, severe rheumatoid arthritis can still cause physical disabilities.
[Full Text Article]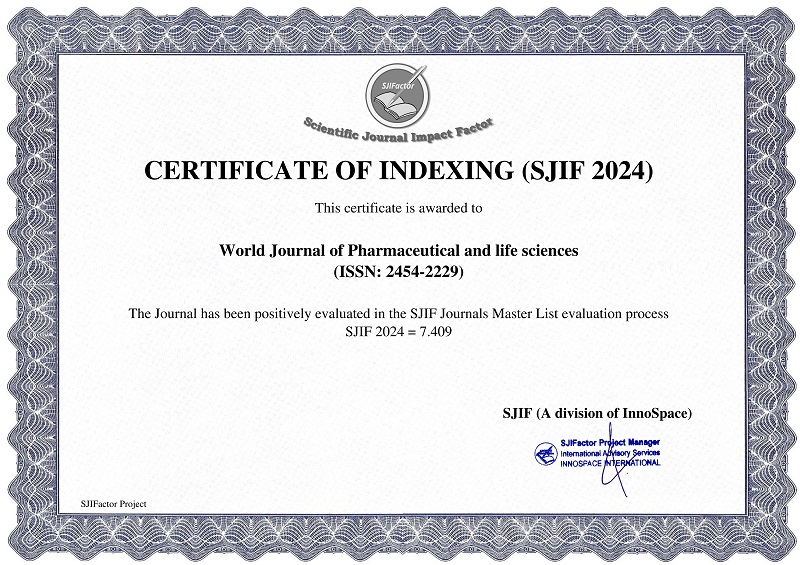 BEST PAPER AWARDS
World Journal of Pharmaceutical and life sciences Will give best paper award in every issue in the from of money along with certificate to promote research .
Best Article of current issue
Download Article : Click here