Abstract
A PRIMARY CUTANEOUS LARGE B-CELL LYMPHOMA OF UNUSUAL LOCATION
Y. El Arabi*, F. Hali, Marnissi F., Quessar A. and Chiheb S.
ABSTRACT
We report the case of a patient with a primary cutaneous large B-cell lymphoma (PCLBCL) of unusual location. A 65-year old man presented a left jugulo-mandibular infiltrated nodular placard rapidly evolving for two months with general deterioration. The cutaneous biopsy showed large cells infiltrate dissociating collagen fibers. Immunohistochemistry revealed a large B-cell lymphoma. Blood count, lymph node ultrasound, and thoraco-abdominal computed tomography were normal. The patient received six cycles of R-CHOP chemotherapy (Rituximab, Cyclophosphamide, Hydroxy Doxorubicine, Vincristine, Prednisone) with complete remission. PCLBCL of cephalic location have a better prognosis than that of the legs.
[Full Text Article]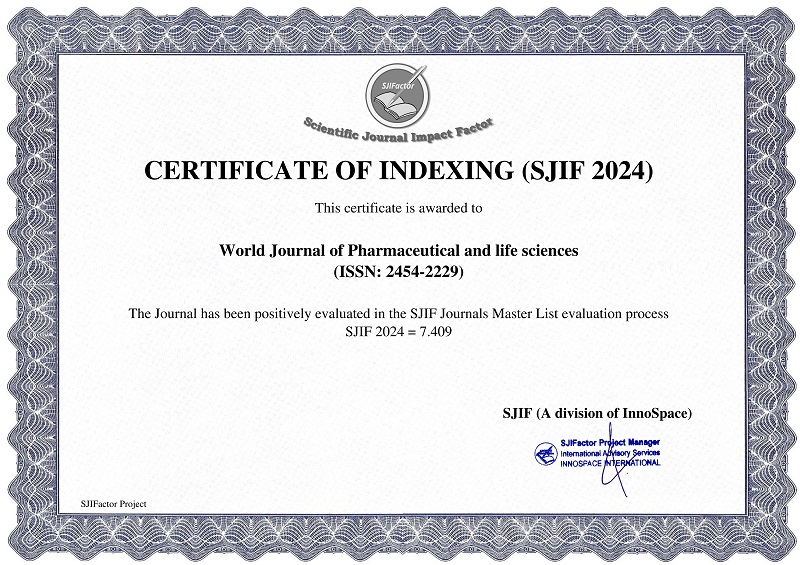 BEST PAPER AWARDS
World Journal of Pharmaceutical and life sciences Will give best paper award in every issue in the from of money along with certificate to promote research .
Best Article of current issue
Download Article : Click here