Abstract
STUDY OF CHRONIC LOW BACK PAIN IN DARBANGA REGION.
Geetanjali Choudhary*
ABSTRACT
A sample survey conducted in private hospital shows chronic low back pain affects approximately 1 in 5 people in Darbhanga region. It is mainly caused by physiological disorder. Most common causes are improper lifting, poor posture, lack of regular exercise, fracture, a ruptured disc or arthritis, inactive lifestyle and inadequate nutrition. It may also be caused by injury of muscle and ligament. It is not specialised to any class or community but more common in female. A person is at least affected by it once in a lifetime. It affects patient's daily activity and quality of life and also affects patient's family and social environment. Pharmacological treatment of this condition is a challenge because of balance of analgesic effect and tolerability. To avoid intolerable side effect of painkiller and longterm safety we should apply physical therapy to reduce chronic low back pain.
[Full Text Article]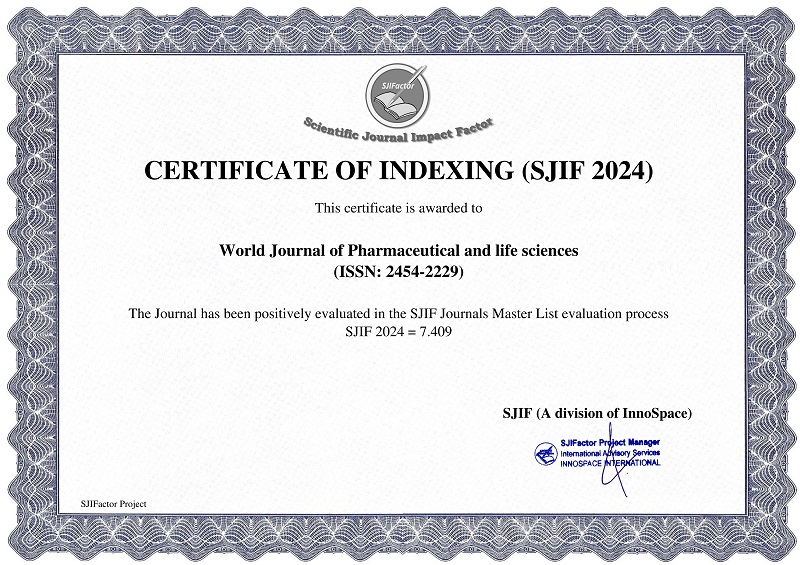 BEST PAPER AWARDS
World Journal of Pharmaceutical and life sciences Will give best paper award in every issue in the from of money along with certificate to promote research .
Best Article of current issue
Download Article : Click here