Abstract
EFFECTS OF THE COVID-19 PANDEMIC ON THE UNAIDS PERFORMANCE INDICATORS AT THE YAOUNDE CENTRAL HOSPITAL, CAMEROON
Charles Kouanfack*, Julienne Vanessa Mapa Dontchueg, Franck Durand Fotso Nembot*, Clarisse Mapa- Tassou, Solange Whegang Youdom, Carole Touo Tsabzeua, Marie Gabrielle Mvilongoa, Marrianick Tiossocka, Georges Nguefack-Tsague, Pierre Joseph Fouda

ABSTRACT

Background: The COVID-19 pandemic caused significant disruptions in the care of people living with HIV, creating fear among patients attending hospitals, even leading to border closures and total population confinement. The main objective of this study was to determine the effects of the COVID-19 pandemic on UNAIDS performance indicators at the Yaoundé Central Hospital. Methodology: We conducted a cross-sectional study comparing UNAIDS performance indicators before and during COVID-19 pandemic at the HIV/AIDS care unit of the Yaoundé Central Hospital. The sampling was exhaustive. Data were collected monthly from the registers, unit database and other relevant tools using an extraction grid. Results: We analyzed data from 10303 and 9741 patients corresponding to the period before and during the COVID-19 pandemic respectively. Compared to the pre-COVID-19 period, the number of days of antiretroviral drug stockouts increased significantly from 177 to 840 days. Significant reductions in HIV testing (24.91%), linkage to antiretroviral treatment (10.14%, p-value=0.0003) and patient retention in HIV care (1.55%, p-value<0.0001) were also observed during the COVID-19 period. Paradoxically, the rate of viral load collection increased significantly by 4.04% (p-value=0.0072) during this COVID-19 period. Conclusion: The COVID-19 pandemic had a negative effect on UNAIDS performance indicators, particularly on testing and retention in the management of people living with HIV. Considering self-center care and community differentiated services may ameliorate UNAIDS performance indicators.
[Full Text Article]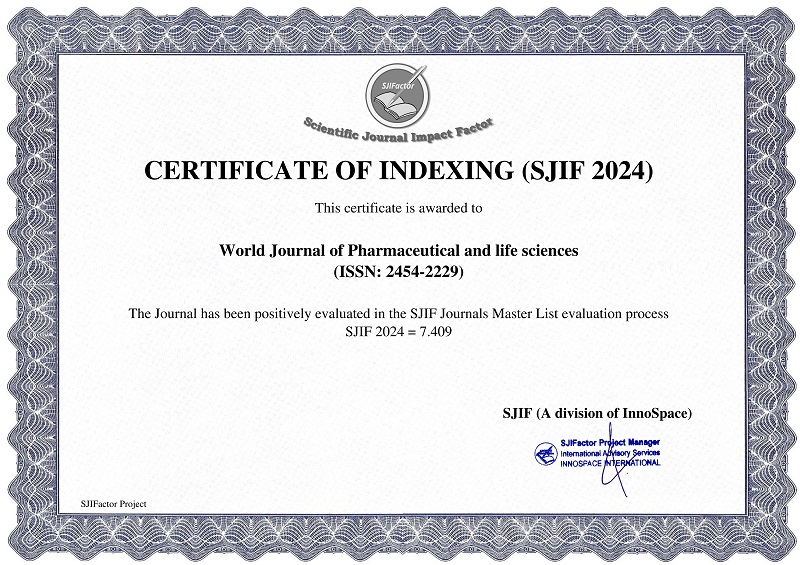 BEST PAPER AWARDS
World Journal of Pharmaceutical and life sciences Will give best paper award in every issue in the from of money along with certificate to promote research .
Best Article of current issue
Download Article : Click here