Abstract
UNDERSTANDING THE CONCEPT OF CHOLELITHIASIS AS PER AYURVEDIC TEXT-- A REVIEW
Prashanti L. P.*, Sheshashaye and Shailaja S. V.
ABSTRACT
Gallstones are formed from the constituents of the bile (viz. cholesterol, bile pigments and calcium salts) along with other organic components. They are formed in the gallbladder, but sometimes may develop within extra hepatic biliary passages, and rarely in the larger intrahepatic bile duct. Gallstone disease caused by cholesterol is a frequent clinical illness impacted by hereditary factors, advancing age, female gender, and metabolic factors. The details of "Cholelithiasis? is not mentioned in Ayurvedic classics directly, but the term Pittashaya ashmari can be coined for it, as Vagbhata while explaining the Samprapti of ashmari says that Ashmari is formed in Basti as Rochana is formed in Pittashaya of cow. So the Ashmari formed in Pittashaya of humans, similar to Gorachana can be considered as Pittashaya ashmari. Sushruta explained Pittashaya as one of the Sapta Ashayas in Shareerastana which actively participate in digestion. Gallstones happens when excess Kapha dosha combines with the Pitta characteristics of the viscous fluid bile, causing it to become dry and hardened. Based on the involvement of doshas chikitsa can be given according to the yukti. This always causes symptoms such as "Alasya"or lethargy, "Gaurava" or abdominal heaviness, and "Mandagni". After analysing the Ayurvedic texts, it was found that due to the similarity in location and function, the bile secreted from the gall bladder can be correlated with the Accha Pitta described in Ayurveda. Owing to the irregular shape of Kapha during the course of digestion and its vitiation owing to Vata and Pitta, the pathogenesis of gall stone disease takes place.
[Full Text Article]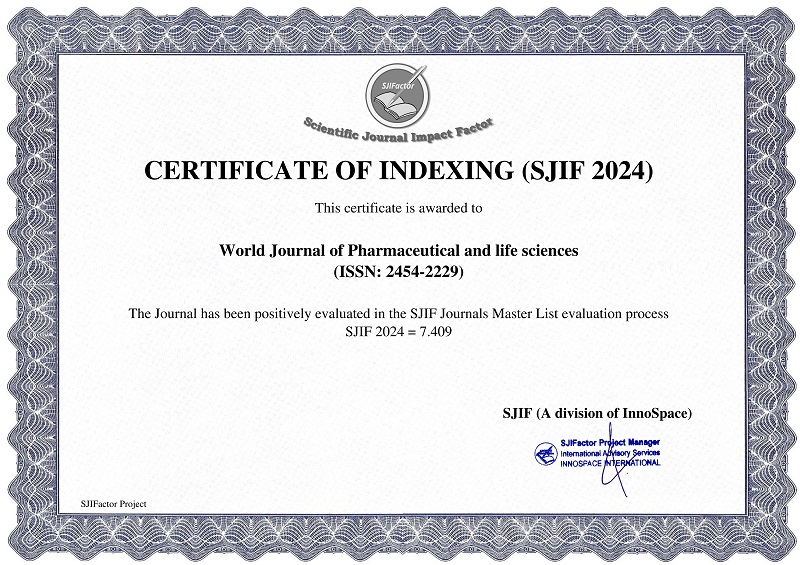 BEST PAPER AWARDS
World Journal of Pharmaceutical and life sciences Will give best paper award in every issue in the from of money along with certificate to promote research .
Best Article of current issue
Download Article : Click here