Abstract
PHYTOCHEMICAL, PROXIMATE COMPOSITION AND ANTIMICROBIAL ACTIVITIES OF N-HEXANE, CHLOROFORM AND ETHYL ACETATE EXTRACTS OF IGBO OKRA (ABELMOSCHUS ESCULENTUS) PODS.
Nwankwo Chinedum Ifeanyi*, Pipi Okechukwu Gift, Atasie Okechukwu Chibuike, Aaron, Chinomso Friday, Onwunmelu, Genevieve Onyedikachi
ABSTRACT
Literature abounds to support the fact that geographical location influences the phytochemistry and proximate composition of a plant. On this premise, this current study aims to evaluate the phytochemical profile, proximate composition as well as the antimicrobial activities of the n-Hexane, Chloroform and Ethylacetate extracts of Igbo Okra pods planted in Ikwuano LGA, Abia State, East of Nigeria of tropical climate. Igbo Okra pods were harvested from a farm in Ikwuano LGA, Abia Sate, South Eastern Nigeria, washed and the seeds separated from the pods. The pods were air dried for two weeks in a room, pulverized using a grinding machine and stored in an airtight container for subsequent use in the study. The results were presented in tabular form after statistical analysis using SPSS statistical software and statistical significance determined using Duncan Multiple Range test at 95% confidence level. The data showed thus; Proximate analyses of Igbo Okra pods contained, 13.47mg/100g for Moisture, 10.79mg/100g for Ash, 3.85mg/100g for crude fat, 11.37mg/100g for Crude fibre, Crude protein was 1.74mg/100g and 58.78mg/100g for carbohydrate. The data for the phytochemical analyses showed the presence of Alkaloids, Terpenoids, Flavonoids, Tannins, Phenolics, Carbohydrates, Reducing Sugars and Steroids. The data for the quantitative phytochemical composition of Igbo Okra pods are as follows; Tannins 18.01mg/100g, Total Phenolics 954.30mg/100g, Steroids 1.12mg/100g, Terpenoids 36.12mg/100g, Flavonoids 111.46mg/100g, 588.89mg/100g for Alkaloids, Reducing Sugars 440.58mg/100g, Carbohydrates 1667.53mg/100g and Glycosides 14.61mg/100g. The obtained from this study results show that Igbo Okra pods possess natural products that could be of immense therapeutic value in the quest for controlling microbial resistance and treatment of diseases, giving credence to its use in ethnopharmacology.
[Full Text Article]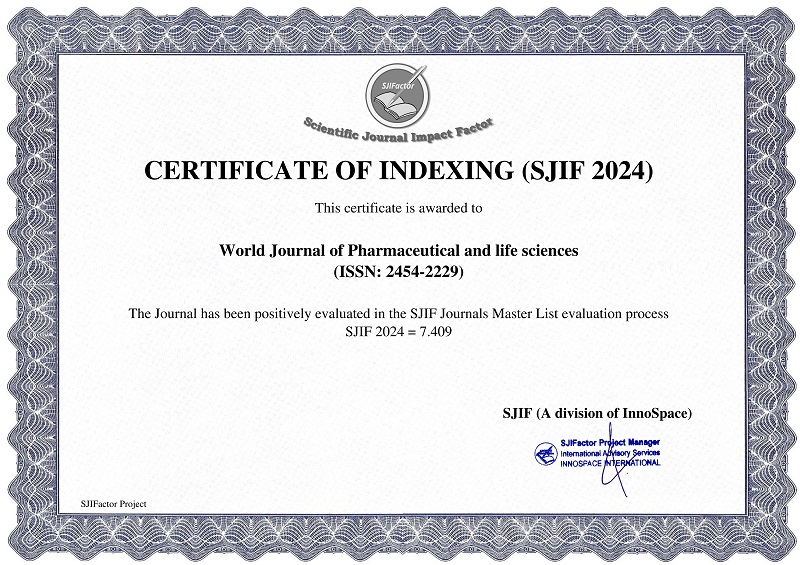 BEST PAPER AWARDS
World Journal of Pharmaceutical and life sciences Will give best paper award in every issue in the from of money along with certificate to promote research .
Best Article of current issue
Download Article : Click here