Abstract
ETHNOBOTANICAL USES OF PLANTS BY THE IJAW PEOPLE IN PATANI, DELTA STATE, NIGERIA
*Agbogidi O. M., Enujeke C. E., Odume O. S., Agbogidi O. M. and Odibo, O. I.
ABSTRACT
This study was conducted to collect indigenous traditional knowledge about plants and their uses by the Ijaw people in Patani, Delta State, Nigeria. The ethnobotanical data were gathered through oral interview with native individuals comprising fourteen females and ten males of diverse age groups between 40 to 80 years. Twenty four (24) plant species belonging to eighteen (18) families were investigated including plants from families of Fabaceae, Euphorbiaceae, Asteraeae, Solanaceae, Poaceae, Musaceae, Convolvulaceae, Lamiaceae, Compositae amongst others which are utilized by native people for various purposes such as antidotes for poisoning, medicine, food, timber, adornment etc. Mostly used plant parts were leaves, stems, roots, barks, fruits and sometimes the whole plant. The results demonstrated that the area is rich in floral diversity but has not been studied extensively. This study provides baseline information of the ethnobotanical uses of plants in the area there by contributing to floral diversity conservation.
[Full Text Article]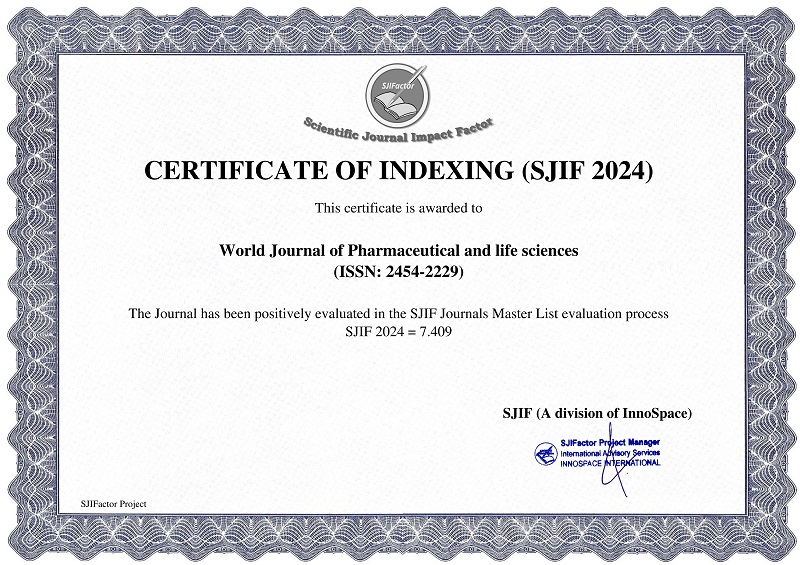 BEST PAPER AWARDS
World Journal of Pharmaceutical and life sciences Will give best paper award in every issue in the from of money along with certificate to promote research .
Best Article of current issue
Download Article : Click here