Abstract
MANAGEMENT OF ARDRA ARSHAS BY KARANJAPRATISARANEEYA KSHARA – A CASE STUDY
Kavya V.* Shailaja S. V.
ABSTRACT
Arshas is defined as Arivat Pranan Shrinoti Hinasti, A disease even though not fatal causes severe discomfort to the patient. Arshas is one of the commonest ano rectal disease. Acharya Charaka classifies Arshas into Shushka and Ardra types. Ardra Arshas is characterized by Prasrava and it is having Rakta and Pitta Pradhanata. Acharya Sushruta has enumerated kshara karma among four treatment modalities in Arsha Chikitsa .The drug karanja is mentioned in Sushruta Samhita as Kshara dravya in Ksharapaka vidhi adhyaya. It is easily available and is cost effective. Hence, this study is taken up to evaluate the efficacy of karanja Pratisaraneeya Kshara in Ardra Arshas. A patient suffering from Ardra arshas (second degree internal haemorrhoids) was selected from IPD of Shalya Tantra SKAMCH & RC and was treated with Karanja pratisaraneeya kshara. No any major or minor complications was reported by patient for a follow up period of 21days. Patient was assessed on parameters as per gradings. There was no post op discomfort or complications. Hence Karanja pratisaraneeya kshara can be used in the management of Ardra arshas
[Full Text Article]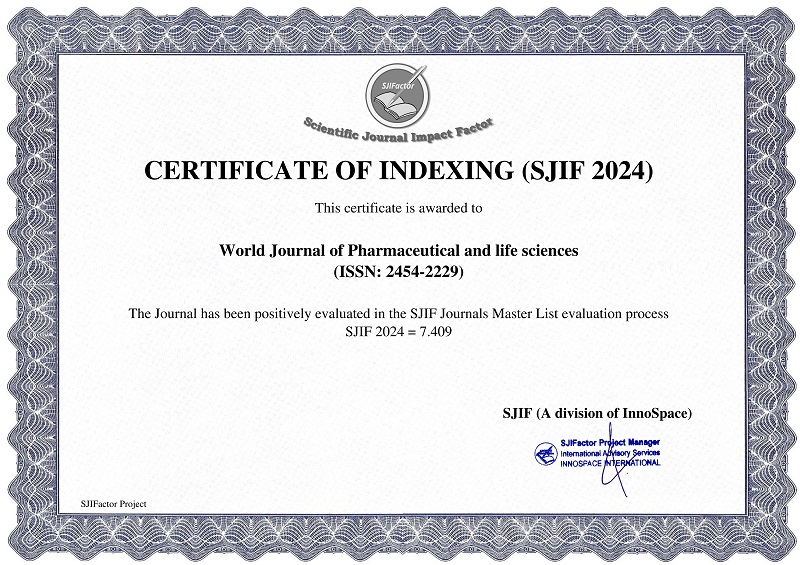 BEST PAPER AWARDS
World Journal of Pharmaceutical and life sciences Will give best paper award in every issue in the from of money along with certificate to promote research .
Best Article of current issue
Download Article : Click here