Abstract
AYURVEDIC MANAGEMENT OF OTOMYCOSIS (KAPHAJA KARNA SHOOLA) - A CASE STUDY
Roopa Kumatagi* and Hamsaveni V.
ABSTRACT
Ayurveda being the science of life deals with the detailed description & management of karnarogas. Karna being the organ of hearing is given more importance. Karnashoola is one among the most common conditions. Among the different types of karnashoola explained, kaphaja karnashoola can be correlated with otomycosis which is a common disease of external ear. It is characterized by Otalgia (Manda ruja), Itching (Kandu), thick ear discharge (Ghana shruti), ear blockage, reduced hearing and ringing sound in the ear (Vaisruthya). Also the disease exhibits a peculiar nature of recurrence, hence it is the need of the society that medical science contributes, to the treatment of otomycosis which is cost effective and efficient enough to prevent recurrence. Here, in this article an attempt is made to discuss a case of kaphaja karnashoola (Otomycosis).
[Full Text Article]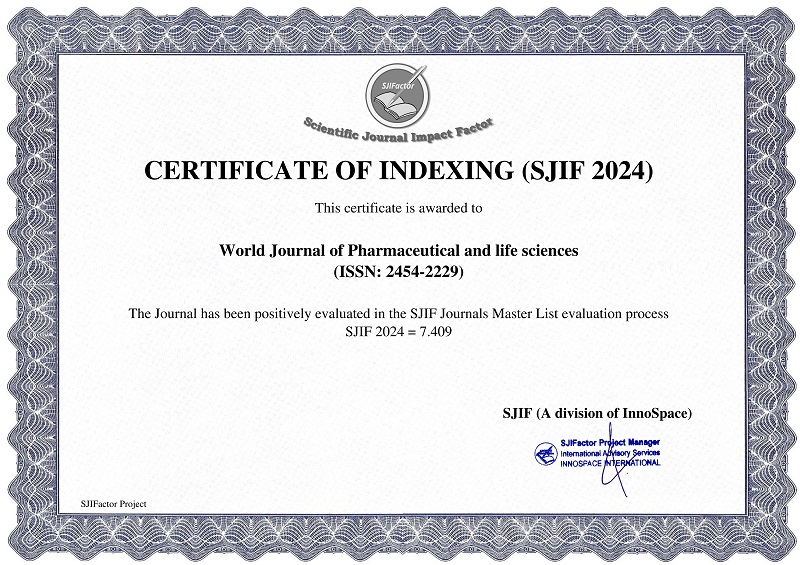 BEST PAPER AWARDS
World Journal of Pharmaceutical and life sciences Will give best paper award in every issue in the from of money along with certificate to promote research .
Best Article of current issue
Download Article : Click here