Abstract
QUALITATIVE PHYTOCHEMICAL SCREENING LEAF, STEM BARK EXTRACTS OF DIOSPYROS CHLOROXYLON ROXB.
Nageswara Rao Naik B.*, Jyothi D. and Vishnuvardhan Z.
ABSTRACT
Diospyros is the most important genus of Ebenaceae family with more than 500 species. These are known for their medicinal use for centuries in traditional systems of India, china and Africa. In addition to their medicinal value, the species have a lot of economic importance. Out of the 60 Indian Diospyros, eleven species are distributed in Andhra Pradesh State. In view of the enormous scientific attention being paid to Diospyros species, the present study reports the qualitative phytochemical screening of Diospyros chloroxylon on which very little research studies have been made from Andhra Pradesh state. The present study records the presence of secondary metabolites in the leaf, stem and bark extracts in Diospyros chloroxylon. Methanolic leaf and bark extracts tested positive for the highest number of phytocompounds, when compared to other solvents viz., aqueous and ethyl acetate. Fixed oils and fats were absent in the three solvent extracts of leaf, stem and bark of Diospyros chloroxylon. The distributions of fourteen tested compounds vary significantly based on plant part (leaf, stem and bark) and solvent type (ethyl acetate, methanol and water). Further, identification of individual compounds in each group is required to understand their importance in different biological activities.
[Full Text Article]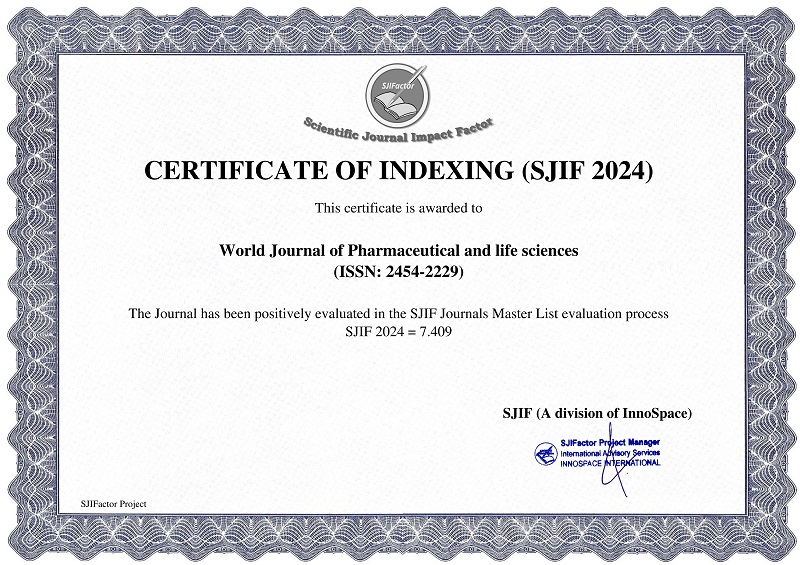 BEST PAPER AWARDS
World Journal of Pharmaceutical and life sciences Will give best paper award in every issue in the from of money along with certificate to promote research .
Best Article of current issue
Download Article : Click here