Abstract
FERTILITY ENHANCEMENT PROSPECTS OF LEAVE EXTRACTS OF MANGIFERA INDICA AND PEPEROMIA PELLUCIDA
*Fadipe A. O. and Saliu J. A.
ABSTRACT
Some non-communicable diseases like infertility and cancer are currently on the increase across the globe. This therefore necessitates the increase in the search for appropriate therapies which are more effective, less expensive and of minimal or no side effects. Herbal medicines are being regarded as suitable alternative to orthodox medicines considering their wide acceptability and availability. The plants extracts used in this study have shown hypoglycemic and hypolipidemic properties but there are dearth of information on the pro-fertility tendencies following exposure of normal rats to them. In this study, male albino rats of wistar strain were placed on the herbs-supplemented diets containing 30% and 70% respectively of each plant for three days after which they were sacrificed by cervical dislocation. Some tissues were collected and some gene expression assays were carried out. The results showed that the genes expressed in the testis, FSH-R and LH-R genes were significantly expressed (up-regulated) by P. pellucida (30%) and M. indica (70%). In the kidney, TNF-alpha gene was down-regulated by all the extracts while IL1-alpha was up-regulated. In the liver, PFK1, Pyr-Kinase and G6pD genes were expressed by all the extracts. It was observed that there is modulation of gene expression following the exposure of normal rats to these herbs, with M. indica and P. pellucida showing to be less toxic and more promising in expression of genes that are important in fertility management. This study offers a key to unlock new therapeutic targets for the treatment of infertility.
[Full Text Article]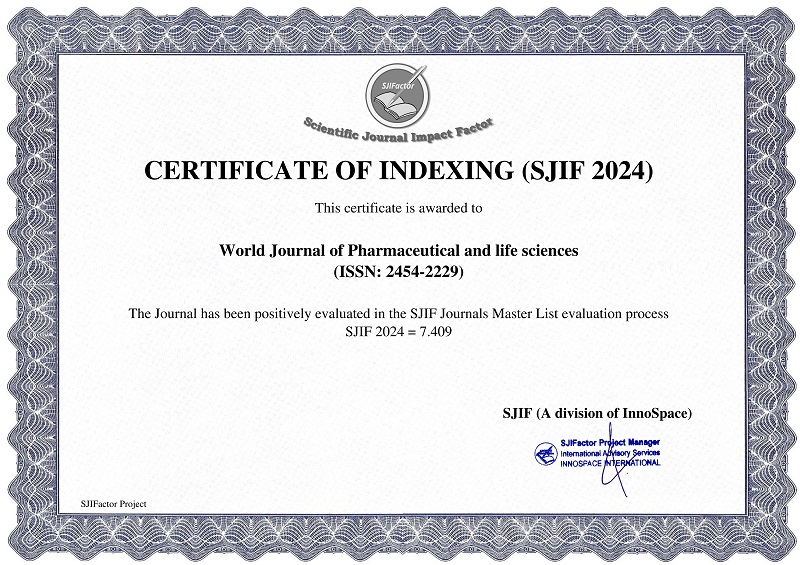 BEST PAPER AWARDS
World Journal of Pharmaceutical and life sciences Will give best paper award in every issue in the from of money along with certificate to promote research .
Best Article of current issue
Download Article : Click here