Abstract
A SELECTIVE AND SPECIFIC RP HPLC METHOD DEVELOPMENT AND VALIDATION OF CURCUMIN AND STUDY OF ITS APPLICATION IN IN SITU FORMING GEL
*Koteswari P., Bhargav G.C., Srinivasababu P., Kishorebabu G., Durga Nithya P. and Prakash K.
ABSTRACT
For the determination of curcumin in pharmaceutical dosage forms a simple RP HPLC method was developed. The method was simple, accurate, precise, selective and specific, and robust. The mobile phase consists of a mixture of Acetonitrile: water (pH adjusted to 3.3with o-phosphoric acid) in the ratio 51:49. Agilent High Pressure Liquid Chromatograph 1260 series with GI311C QUAT pump, Eclipse XDB-C18 5?m, 4.6×250mm (MADE IN USA) and diode array detector G1315D was used in the study. The total run time and retention time were 10 and 8.77 min. Specificity and selectivity of the method was investigated by subjecting the curcumin to various degradations such as acid, alkali, hydrogen peroxide. The method was validated for various parameters and found linearity in the concentration range 0.25 to 10?g/ml, regression coefficient 0.999, LOD and LOQ 0.73 ?g/mL and 2.2 ?g/mL respectively. The robustness was checked by changing mobile phase composition and flow rate. Its suitability for routine analysis was tested in in situ gel formulation and found to be applicable.
[Full Text Article]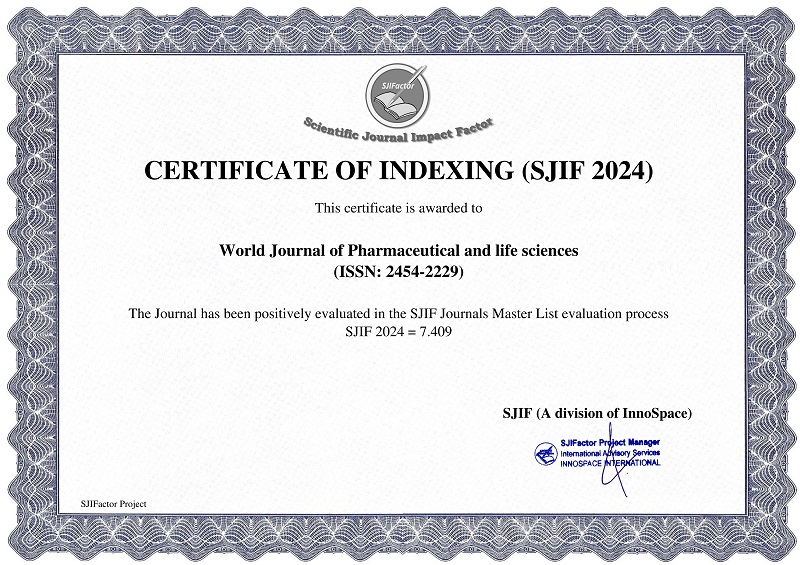 BEST PAPER AWARDS
World Journal of Pharmaceutical and life sciences Will give best paper award in every issue in the from of money along with certificate to promote research .
Best Article of current issue
Download Article : Click here