Abstract
MAMMARY AND LYMPH NODE METASTASIS OF OVARIAN PSAMMOCARCINOMA
EL Qasseh R.*, Kiram H., Assal A., Boufettal H., Mahdaoui S. and Samouh N.
ABSTRACT
The metastasis of breast ovarian cancer is an unusual situation as a remote location of cancer. We report the case of a patient aged 45 years operated for ovarian cystadenocarcinoma treated by total hysterectomy with omentectomie and chemotherapy. The balance sheet expansion was negative. Two years after the end of treatment, the patient was presented with a metastasis of right breast at the upper outer quadrant. Mammography has objectified opacity limited spiculée evil suspicious of malignancy. The lumpectomy expanded study has concluded an extemporaneous cystadenocarcinome ovarian serous papillary exeresis with healthy limits. A lymph node was done, he shows three out of ten lymph nodes invaded taken. The origin of intramammary carcinoma has been attributed to the ovary. The treatment consisted of chemotherapy. We realized with this observation, a literature review on specific forms of metastatic ovarian carcinoma.
[Full Text Article]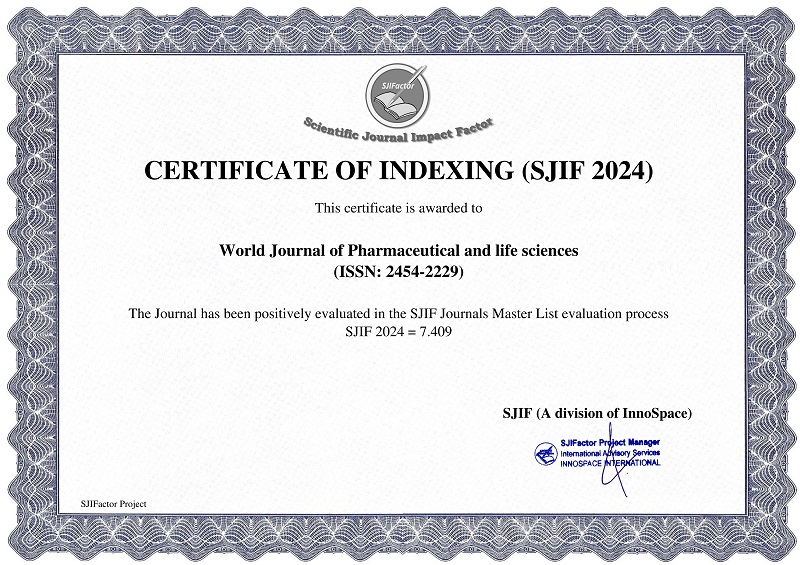 BEST PAPER AWARDS
World Journal of Pharmaceutical and life sciences Will give best paper award in every issue in the from of money along with certificate to promote research .
Best Article of current issue
Download Article : Click here