Abstract
DISJUNCTION OF THE SYMPHYSIS PUBIS AFTER VAGINAL DELIVERY (INDIVIDUAL CASE STUDY)
*Elkoumi Jihad, Benkhaira Safaa, Youssouf Nabila, Jalal M., Lamrissi A., Fichtali Karima, Bouhya S.
ABSTRACT
Pubic symphysis disjunction is described as enlargement of the pubic joint by more than 10 mm and is considered as an uncommon complication of vaginal delivery or pregnancy (1 in 300 to 1 in 30,000 pregnancies), for which no standard treatment has been defined. We present the case of a patient with severe pelvic pain complicated by impotence of the left lower limb that occurred 3 days after a dystocic vaginal delivery. The diagnosis of symphysis disjunction was confirmed by a radiology of the pelvis. The therapeutic management consisted of exclusive medical treatment. The evolution was favorable. Through this case, we will emphasize the characteristics of this pathology, especially the diagnosis, which will allow the practitioner to understand its interest, as well as the interest of an early and adapted management.
[Full Text Article]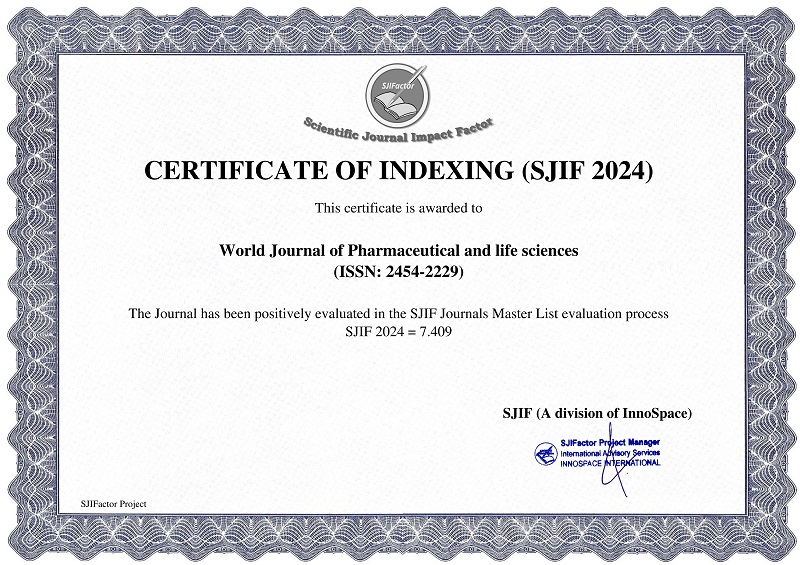 BEST PAPER AWARDS
World Journal of Pharmaceutical and life sciences Will give best paper award in every issue in the from of money along with certificate to promote research .
Best Article of current issue
Download Article : Click here