Abstract
MANAGEMENT OF MUKHDUSHIKA WITH JALAUKAVACHARANA – SINGLE CASE STUDY
Dr. Shifali Sahu*, Dr. Veerayya R. Hiremath, Dr. Shashikala K. and Dr. Gururaj N.
ABSTRACT
Face is the most beautiful part of human body and is affected by certain anomaly at any age of life. In present scenario Mukhadushika (Acne vulgaris) is the most common skin disease which affects the social and emotional health of an individual. Mukhadushika or Yuvanapidika is categorized under Kshudraroga which is characterized with shalmali thorn like eruption on the face due to vitiation of kapha, vata and rakta. The treatment includes both Shodhana and Shamana chikitsa. Acne vulgaris is described as a chronic inflammatory disorder of sebaceous follicles characterized by the formation of Comedones, papules and pastules, less frequently nodules or cysts. The treatment includes oral antibiotic, topical applications, surgery, and laser therapy. A 20 yrs old male patient Visited Our Opd with complaints of pimple on both cheeks and forehead with itching and burning sensation since 1yr. the treatment planned was Jalaukavacharana, aarogyavardhini vati, and manjisthadi kwath. Jalaukavacharana removes vitiated blood and works as anti inflammatory, thus reducing the mukhadushika. Oral drugs possess properties like Varnya, Kaphapitta Shamaka, Shothahara, Vranaropaka, Raktadoshaka, Vedanashamaka, Kandughna, Dahaprashamana,. The study reveals that shodhana chikitsa with shamana chikitsa is effective for the management of mukhdushika.
[Full Text Article]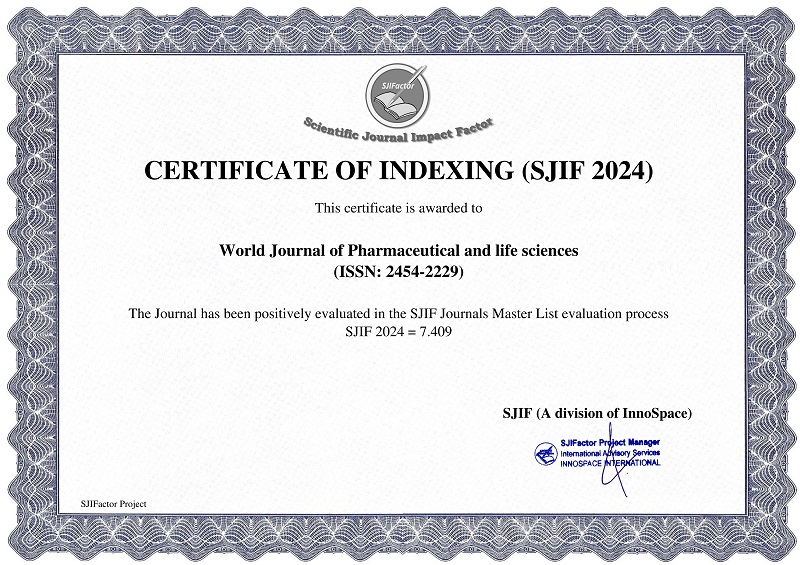 BEST PAPER AWARDS
World Journal of Pharmaceutical and life sciences Will give best paper award in every issue in the from of money along with certificate to promote research .
Best Article of current issue
Download Article : Click here