Abstract
KNOWLEDGE, ATTITUDE AND COMPLIANCE OF HAND HYGIENE AMONG HEALTH CARE WORKERS AT A TERTIARY CARE HOSPITAL OF DHAKA CITY.
Dr. Kasekh Akhtar Jahan, *Dr. SM Mamun Iqbal, Prof. Dr. Manzurul Haque Khan and Dr. Arman Zahed Basunia
ABSTRACT
Introduction: Proper hand hygiene is an important means of preventing hospital-acquired infections. This study aimed to provide information on knowledge, attitude and compliance of hand hygiene among health workers in a tertiary care hospital of Dhaka city. Methodology: A cross-sectional study was carried out during the period 1st November 2014 to April 2015 to assess knowledge, attitude and compliance regarding hand hygiene among health care workers in a tertiary care hospital, Dhaka. A total of 12 units/wards of the hospital were selected for data collection, doctors and nurses of these units were taken as the study population. The researcher visited both the groups and explained the nature of the study. Verbal consent was obtained from those who volunteered to participate. Knowledge and attitude towards hand hygiene was assessed using self-administered questionnaires and the hand hygiene was observed directly for compliance. Results: Among the 336 study participants only 5.1% had poor knowledge whereas the vast majority (81.3%) had moderate knowledge regarding hand hygiene. Most of the respondents (59.20 %) were found to have moderate attitude towards hand hygiene. It was also found that significantly higher proportion of nurses (74.90%) had undergone through hand hygiene training compared to doctors (19.7%). The overall compliance was found to be 62.32%, and it was higher among nurses than among doctors (63.24% versus 55.96%). Highest compliance (90.09%) was found for moment two; i.e., "before doing any clean/aseptic procedure", and least compliance (23.07%) was found for moment five; i.e., "after touching patient's surroundings" of hand hygiene opportunities. Significant association was found between level of knowledge and hand hygiene compliance rate of healthcare workers. Also, hand hygiene training was found to be significantly associated with level of knowledge, attitude and compliance among the healthcare workers. Conclusion: Present study highlights the need of multi disciplinary, multifaceted approach with special attention to repeated training with evaluation and feedback regarding hand hygiene practices among the health care workers to increase the knowledge and attitude which may play a very important role in increasing hand hygiene compliance and reducing cross transmission of hospital-acquired infections. Further study is also needed to explore the reasons for non-compliance at institutional and national level.
[Full Text Article]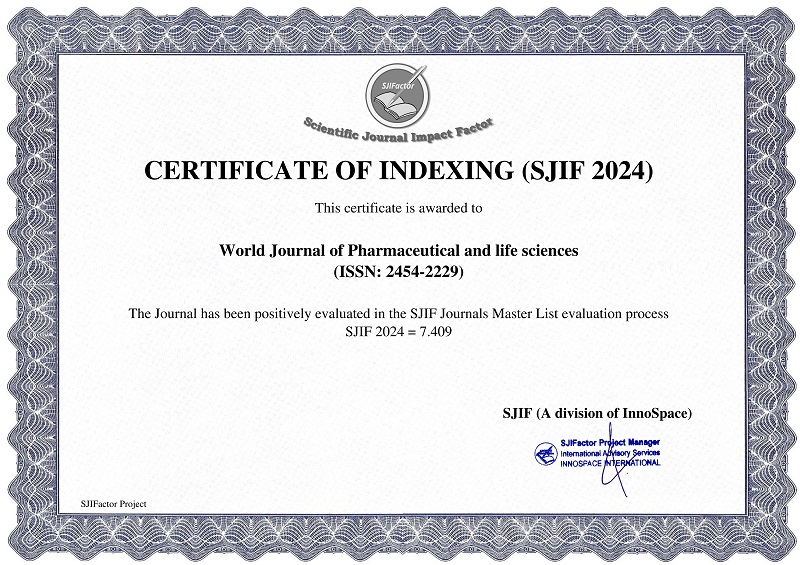 BEST PAPER AWARDS
World Journal of Pharmaceutical and life sciences Will give best paper award in every issue in the from of money along with certificate to promote research .
Best Article of current issue
Download Article : Click here