Abstract
EVALUATION OF THE ANTI-DIABETIC ACTIVITY OF THE HYDRO-ETHANOLIC EXTRACT OF THE NUCLEI OF PERSEA AMERICANA (LAURACEAE) IN THE WISTAR RAT.
Raoul Ampa* and Euroldyne Tony Malaissou and Ouossolo Lingomo Berthrand Stephane
ABSTRACT
Faced with the alarming increase in the number of diabetics around the world and the cost of modern treatment, the African pharmacopoeia offers an alternative to synthetic antidiabetics. Thus, the present study was undertaken to evaluate the anti-diabetic activity of the hydro-ethanolic extract of Persea americana Mill nuclei in rats. Thus, the hypoglycemic, hyperglycemic and anti-diabetic activities of this extract were evaluated. The phytochemical study by characterization reactions in tubes demonstrated the existence of tannins, alkaloids and flavonoids in this extract. The extract administered by the oral route made it possible to lower the glycemia of normal rats, hyperglycaemic (by overloading with glucose at a rate of 3g / kg) and diabetics by injection of streptozotocin, compared to rats having received only distilled water. At a dose of 400 mg / Kg the extract decreases the baseline glycemia of normal rats at the 4th hour (p <0.05). In diabetic rats, the extract at a dose of 400 mg / kg significantly (p <0.01) reduced blood sugar from the 1st hour, compared to diabetic rats given distilled water and the extract at the dose of (200mg / kg. The observed antidiabetic activity can be explained by the action of flavonoids or their association with the other chemical families highlighted in this extract. These results can justify the use of these nuclei in traditional medicine for the treatment of diabetes.
[Full Text Article]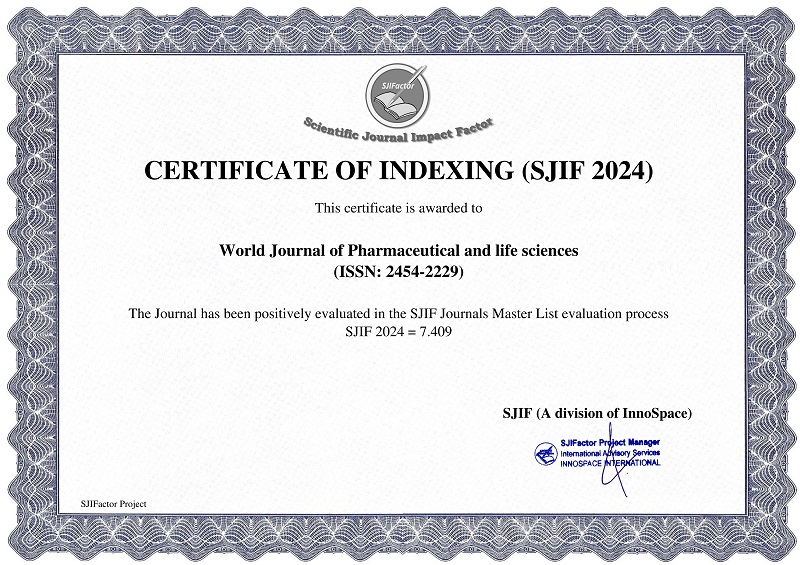 BEST PAPER AWARDS
World Journal of Pharmaceutical and life sciences Will give best paper award in every issue in the from of money along with certificate to promote research .
Best Article of current issue
Download Article : Click here