Abstract
CYTO-ARCHITECTURAL DISPOSITION OF THE CEREBRAL CORTEX OF ADULT WISTER RATS TREATED WITH SAMIN YOGURT.
Uloneme Godwin Chinedu*
ABSTRACT
Background: Yogurt is a diary food product produced by lactic acid bacteria in fermentation of milk. It is the most widely used fermented milk in the western world and many other countries, including Nigeria. Purpose: The study was done to investigate, and possibly determine the effect of yogurt on the cerebral cortex of adult wister rats. Method: Twenty four adult wister rats weighing between 180 and 200g housed kept in six separate cages labeled A, B, C, and D respectively and housed in Anatomy and Nuerobiolody Department, Imo State University, Owerri were used for the study. Each cage contained four female rats that were allowed free access to the normal rat chow and water. Group A that served as the control group was served only water and rat chow. Group B was administered 25000mg/kg body weight of yogurt; group C received 5000mg/kg body weight of the product, while group D received 10,000mg/kg body weight of samin yogurt. The yogurt administration to the different rat groups was done by oral intubation twice daily (9am and 6pm). At the end of the four week experimental period, the rats were anaesthetized in chloroform vapour and the brains were excised and preserved for histological analysis. Results: Histological analysis of the cerebral cortex of the brain showed that there was no noticeable effect of samin yogurt on the cyto-architectural disposition of the cerebral cortex of the rats treated with varying doses of the product.
[Full Text Article]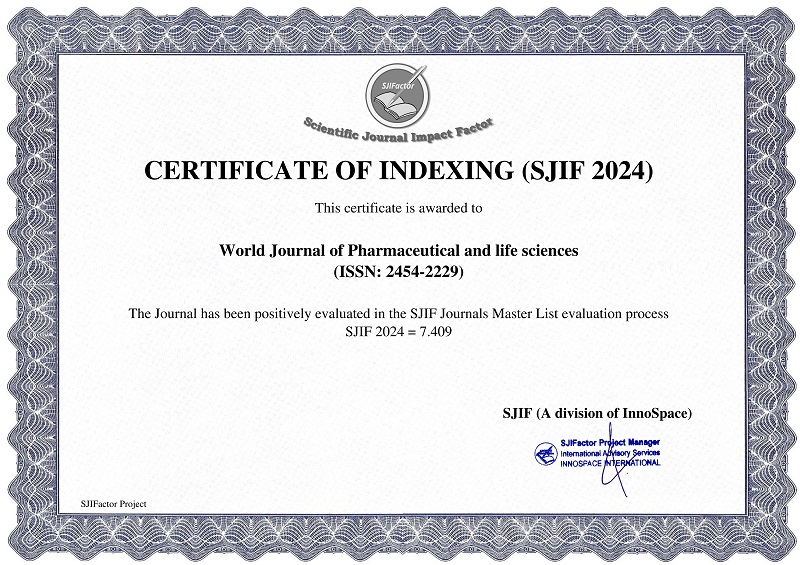 BEST PAPER AWARDS
World Journal of Pharmaceutical and life sciences Will give best paper award in every issue in the from of money along with certificate to promote research .
Best Article of current issue
Download Article : Click here