Abstract
AYURVEDIC MANAGEMENT OF VICHARCHIKA WITH SPECIAL REFRENCE TO ECZEMA: A CASE REPORT
Dr. Rimpi Majumder*, Dr. Aboli Patil2 and 3Dr. Swapnil C. R.
ABSTRACT
vicharchika (Eczema) is a a type of kshudra kustha often characterized by many symptoms like kandu(itching), Srava(discharge), pidaka(small vesicles). It is a acute or chronic condition.[1] Vicharchika is often correlated to eczema based on the clinical presentations. There is no satisfactory treatment in contemporary medical science without antihistamines and topical steroids. In Ayurveda, the main line of treatment for Vicharchika is sodhana and shaman oushadhis. A 11 years old boy approached to OPD with chief complaints of discharge, erythematous skin lesions with intense itching at the ventral of both foot treated with shamana drugs and externally used preparation. A salient improvement is seen in a span of 2 months.
[Full Text Article]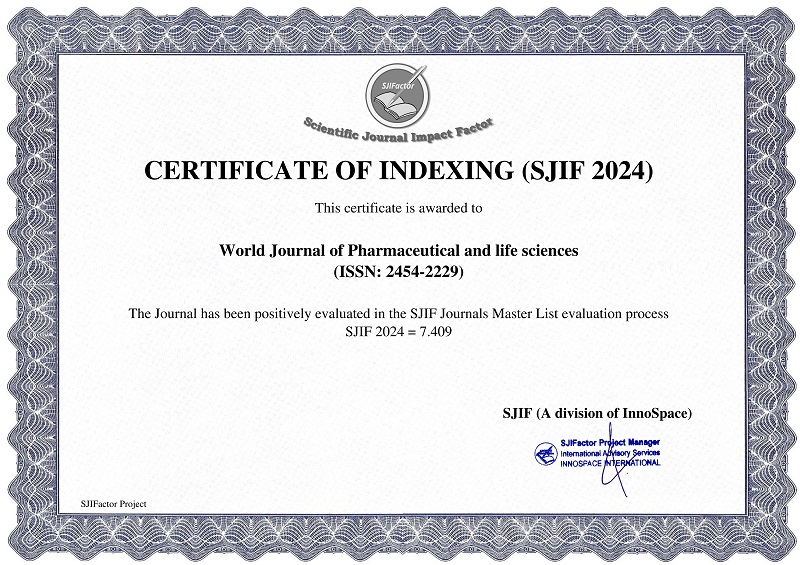 BEST PAPER AWARDS
World Journal of Pharmaceutical and life sciences Will give best paper award in every issue in the from of money along with certificate to promote research .
Best Article of current issue
Download Article : Click here