Abstract
ANTIBACTERIAL PROPERTIES OF DIFFERENT PARTS OF CALOTROPIS GIGANTEA: AN IN-VIVO STUDY
Akelesh T., Arulraj P., Sam Johnson Udaya Chander J., Vijaypradeep I.* and Venkatanarayanan R.
ABSTRACT
C gigantea, a noncultivable weed found abundantly in Africa and Asia, is commonly known by the names "crown flower," "giant milkweed," and "shallow wort" and is known for many medicinal properties. The aim of the present study was to investigate antimicrobial and antifungal activities of aqueous extracts of Calotropis gigantea against clinical isolates of bacteria and fungi. In vitro antimicrobial and antifungal activity was performed by cup well diffusion method. The extract showed significant effect on the tested organisms. The extract showed maximum zone of inhibition against E. coli (18.1±1.16) and lowest activity against K. pneumoniae (11.4±1.44). latex of C. gigantea showed maximum relative percentage inhibition against B. cereus (178.2 %) followed by E. coli (171.2), P. aeruginosa (102.4), K. pneumoniae (79.5), S. aureus (46.04) and M. luteus (23.7 %) respectively. Minimum Inhibitory Concentration (MIC) was measured by cup and plate method and the aqueous extract exhibited good antibacterial and antifungal.
[Full Text Article]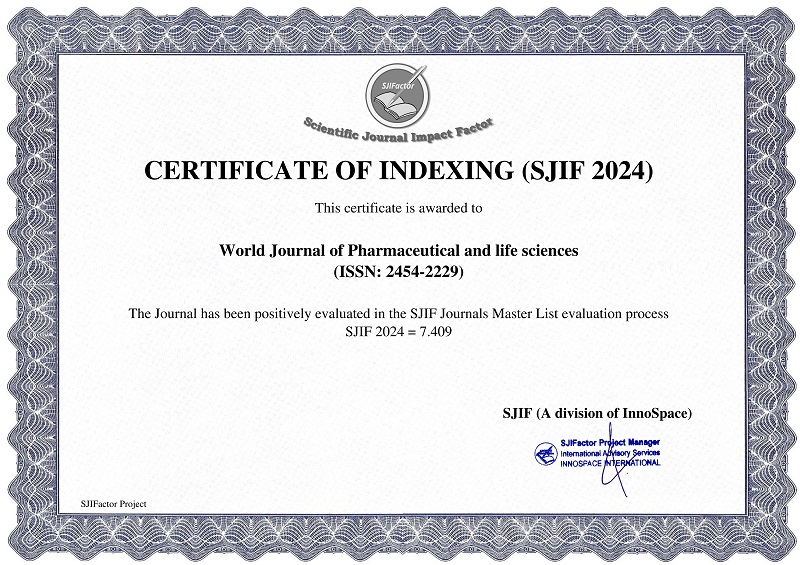 BEST PAPER AWARDS
World Journal of Pharmaceutical and life sciences Will give best paper award in every issue in the from of money along with certificate to promote research .
Best Article of current issue
Download Article : Click here