Abstract
QUANTITATIVE PHYTOCHEMICAL ESTIMATION AND PROXIMATE ANALYSIS OF THE WHOLE PLANT OF EUPHORBIA HETEROPHYLLA LINN
*Apampa, S.A, Shittu, A.M and Musa, H.R.
ABSTRACT
Natural products of plant origin offer a vast resource of newer medicinal agents with potential in clinical applications. Euphorbia heterophylla is an herb and belongs to the family Euphorbiaceae. It is an important and widely used medicinal plant especially in the treatment of fungi. This study aims to analyse the quantitative phytochemicals and proximate chemical composition of the whole plant of E.heterophylla using standard methods. The quantitative phytochemical constituents was separately analysed in n-hexane, ethyl acetate, methanol and aqueous fractions in order of increasing polarity. The results indicated that phenol has the highest percentages in the overall quantitative phytochemical estimation as shown in the aqueous (12.30± 0.70%), methanol (11.20± 0.20%) and n-hexane (9.65±2.35%) fractions. This was followed by tannin with percentages of (10.00± 0.20%), (9.00± 0.50%) and (7.00± 0.00%) in aqueous, methanol and ethyl acetate fractions respectively. The lowest percentages of the quantitative phytochemical estimation were recorded in saponin n-hexane and ethyl acetate fractions with values of (0.50± 0.05%) and (0.80±0.00%) respectively. This was replicated in the values obtained from the alkaloid ethyl acetate and methanol fractions and flavonoid n-hexane fraction with each having a percentage of (1.00± 0.00%). The presence of these bioactive compounds is an indication of its therapeutic uses. The moisture content was higher in the fresh plant sample (83.06±2.42%) and lower in the dried plant sample (11.74±1.91%). Also, the carbohydrate content in the dried plant sample was higher (75.92±0.81%) and lower in the fresh plant sample (10.74±1.82%). The ash content, fat, protein and crude fibre all varies accordingly from the fresh to the dried plant sample which further confirms its application in medicine.
[Full Text Article]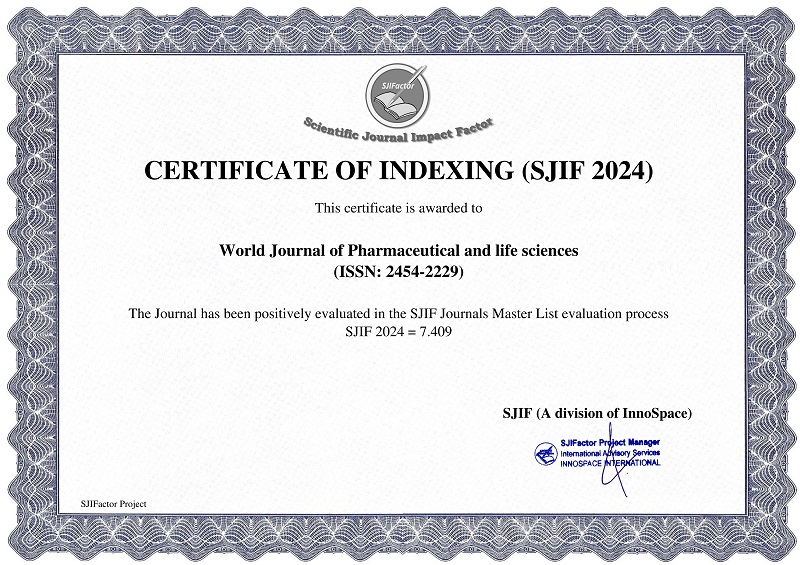 BEST PAPER AWARDS
World Journal of Pharmaceutical and life sciences Will give best paper award in every issue in the from of money along with certificate to promote research .
Best Article of current issue
Download Article : Click here