Abstract
ANTIULCER ACTIVITY OF NUTS OF SEMECARPUS ANACARDIUM LINN.
Dr. R. Xavier Arulappa*, M. Jerubin Welsingh, V. Vasudevan and S. Mohan
ABSTRACT
This study was performed to determine the antiulcer activity of extracts of semecarpus anacardium against pylorous ligation induced gastric ulcer. The ethanolic extract of semecarpus anacardium at the dose of 400 mg/kg P.W markedly decrease the incidence of ulcers in pyloric ligated rats. In pyloric ligated rats, there was an increase in the gastric volume, free and total acidity and ulcerative index as compared to the control group. The ethanolic extract of seme carpus anacardium at the dose of 400 mg/kg showed significant reduction in the above parameters which was comparable to the standard drug Ranitidine (50 mg /Kg). Semecarpus anacardium extract showed ulcer protection index 70.45% where as standard drug Ranitidine showed ulcer protection index 76.13%.
[Full Text Article]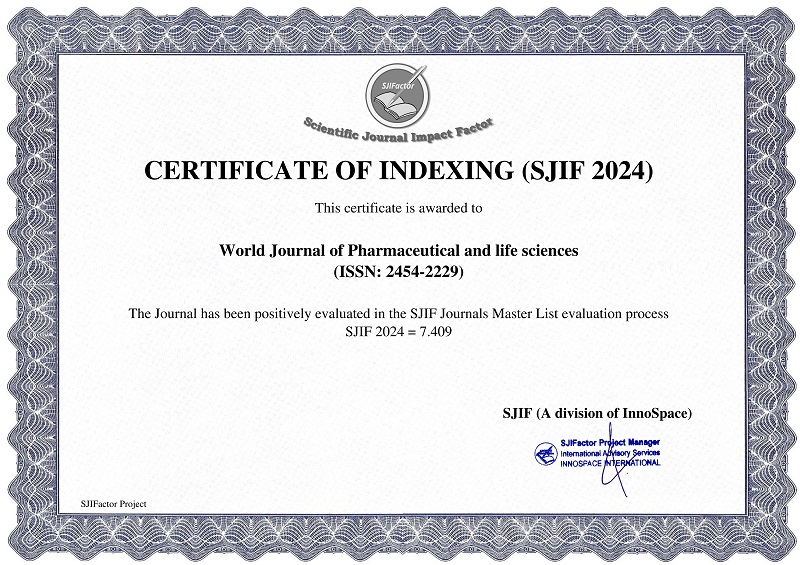 BEST PAPER AWARDS
World Journal of Pharmaceutical and life sciences Will give best paper award in every issue in the from of money along with certificate to promote research .
Best Article of current issue
Download Article : Click here