Abstract
TO STUDY THE PRESCRIPTION PATTERN OF ANTIBIOTICS IN RESPIRATORY TRACT INFECTION IN PATIENTS IN TERTIARY HOSPITAL
Sanaha Thattan Kandi*, Chippymol Jopi, Rajan Acharya and Shuhaib B.
ABSTRACT
Inappropriate use of antibiotics specifically, the broad-spectrum antibiotics in respiratory tract infections results in resistance to antibiotics. Irrational antibiotic use may result in increased cost of treatment, drug-drug interactions and cause severe adverse reactions. The study of prescribing pattern concludes to monitor, evaluate and suggest modifications in the practitioner's prescription habits, to make patient care reasonable and effective. The aim of our study is to assess the prescription pattern of antibiotics in respiratory tract infections in a tertiary care hospital, Mangalore. From the study the average encounters with an antibiotic prescribed were in accordance with WHO recommendations but the average no. of total drugs per prescription was not according to WHO recommendation. A very few drugs were prescribed in generic names. There was a slight difference in the value of drugs from EDL from the recommended values and the injections were given according to WHO recommendations.
[Full Text Article]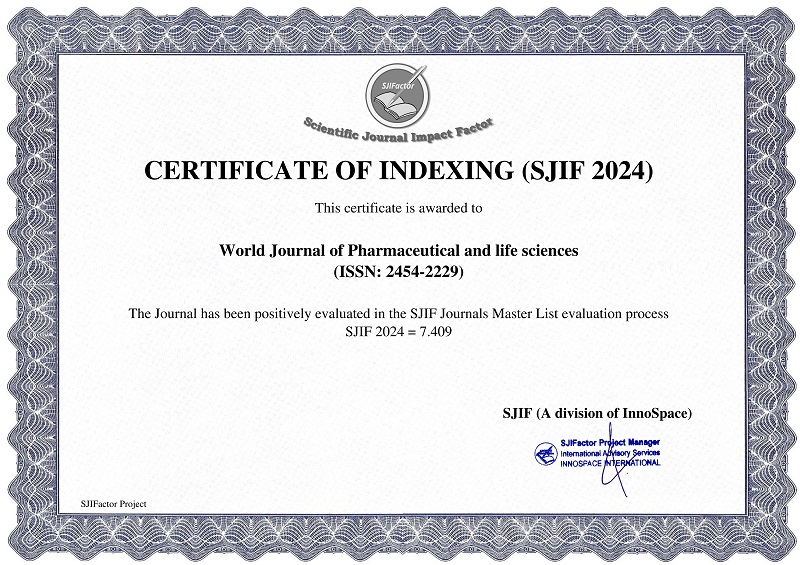 BEST PAPER AWARDS
World Journal of Pharmaceutical and life sciences Will give best paper award in every issue in the from of money along with certificate to promote research .
Best Article of current issue
Download Article : Click here