Abstract
HERBAL-INDUCED APLASTIC ANAEMIA SECONDARY TO FERULA ASAFOETIDA IN TWO PAEDIATRIC PATIENTS: CASE SERIES.
Faten AlKateb, Ahmed AlEidan*, Awatif AlMutairi, Samiha AlJetaily, Mohammad AlShamrani, Mohammed AlMasoud, Sulaiman AlRddadi, Abdulmalik AlSalem, Nouf AlThonaian, Tahani AlBohairy and Mazen AlGhofaily
ABSTRACT
Aplastic anaemia is a rare and heterogeneous disorder. It is defined as pancytopenia with a hypocellular bone marrow in the absence of an abnormal infiltrate or marrow fibrosis.[1] We, hereby, describe a newly observed genuine relationship between herbal ingestion of Ferula Asafoetida (Heltit) and a resultant depressed marrow in conjunction with deranged liver enzymes observed in 8-year-old and 9-year-old patients respectively.
[Full Text Article]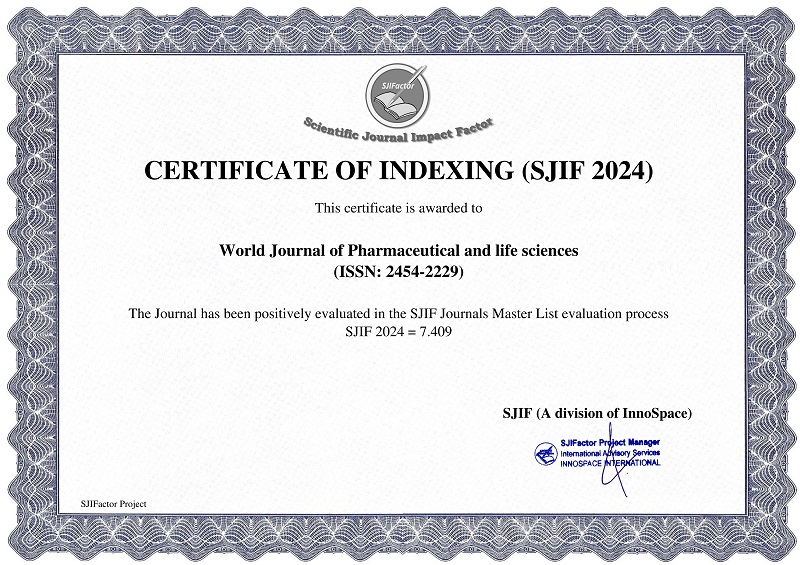 BEST PAPER AWARDS
World Journal of Pharmaceutical and life sciences Will give best paper award in every issue in the from of money along with certificate to promote research .
Best Article of current issue
Download Article : Click here