Abstract
CONSTITUENTS AND ANTIMICROBIAL ACTIVITY OF SUDANESE DETARIUM SENGALENSE (FABACEAE) OIL
Abdel Karim M.*, Mohamed E., Mahmoud M. Ali, Weam M. A. Khojali and Faiza I.
ABSTRACT
Traditional medicine is still playing an important role in primary health care and numerous pharmacological reports on the impact of secondary metabolites on human physiology even potentiated the applications of medicinal plants. Detarium sengalense is a key species in ethnomedicine. The plant is consumed as food and is involved in pharmaceutical industries. Detarium sengalense is a natural remedy for a wide array of diseases including: malaria, leprosy, bronchitis, diarrahea, dysentery syphilis meningitis and sore throat. In this study, Detarium sengalense oil has been analyzed by GC-MS. The analysis showed 17 components. Major constituents are: i)9, 12-octadecadienoic acid (Z, Z)-, methyl ester (29.23%)ii)9-octadecenoic acid (Z)-, methyl ester (21.69%).iii) hexadecanoic acid, methyl ester (17.85%) and iv) methyl stearate (14.80%). The antmicrobial activity of the oil has been assessed. Daterium senegalensis oil showed significant anticandidal activity and significant antibacterial activity against Escherichia coli. The oil also exhibited very good activity against Staphylococcus aureus.
[Full Text Article]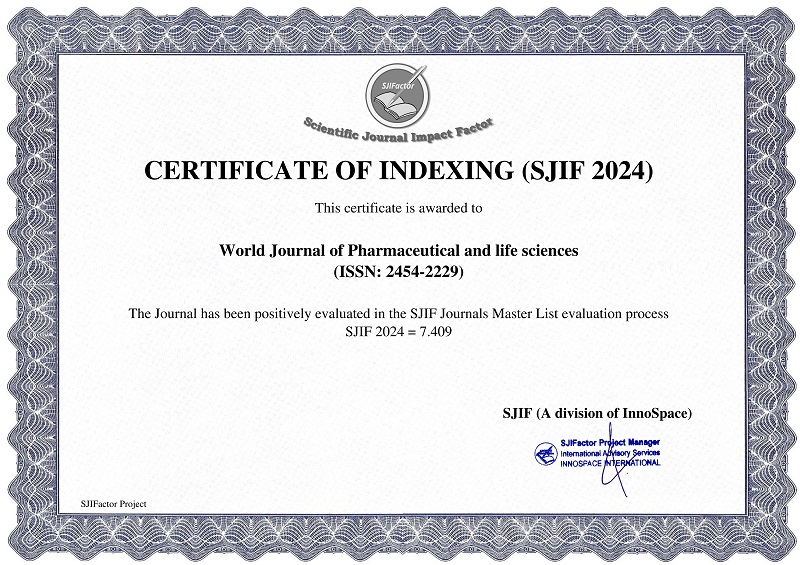 BEST PAPER AWARDS
World Journal of Pharmaceutical and life sciences Will give best paper award in every issue in the from of money along with certificate to promote research .
Best Article of current issue
Download Article : Click here