Abstract
KRIYAKALPA: THE UNIQUE MANAGEMENT OF EYE DISORDERS USING AYURVEDIC PRINCIPLES.
Dr. Avvinish Narine*, Dr. Gopesh Mangal, Dr. Gunjan Garg and Dr. Dinesh Sharma
ABSTRACT
In Ayurveda, the aim of the science is mentioned as "Swasthasya Swasthyarakshanam Aturasya Vikarprashaman" which when translated, conveys the meaning of "To maintain the health of a healthy individual and cure the disease in the diseased". The great Ayurvedic Acharya has mentioned in the Samhita that the eye is ranked as one of the most important organ amongst all: "Sarvendriyanam Nayam Pradhanam". It is of utmost importance to maintain the health of the eyes and alleviate any disorders in an effective manner. The Acharya have described detailed local therapeutic procedures to administer and cure ophthalmic disorders in simple but effective methods. Acharya Susruta termed them as "Kriyakalpa?. Kriyakalpa is the treatment that refers to the procedures in which medications/drugs are applied in or around the eyeball as a method of treatment. It is very necessary to keep the eyes healthy, because without sight the world becomes dark for the individual. As such, in this article we will expound briefly the various Kriyakalpa and various formulations mentioned in Ayurveda.
[Full Text Article]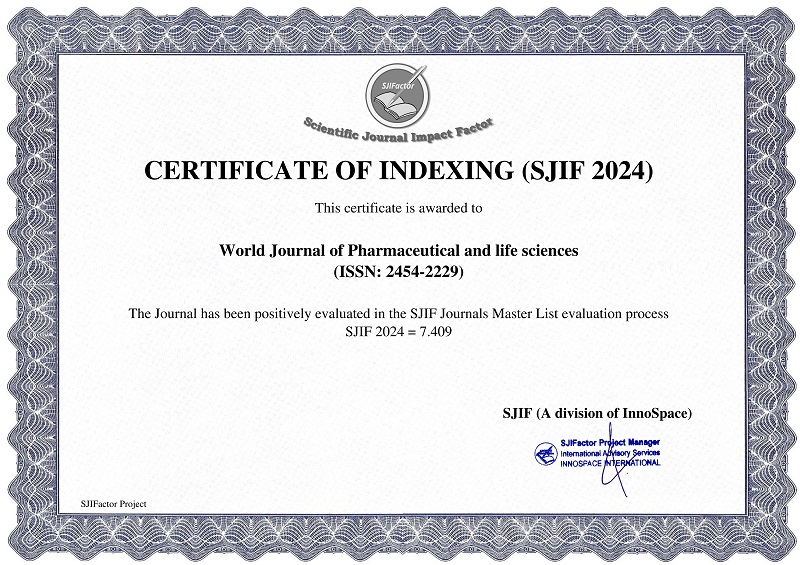 BEST PAPER AWARDS
World Journal of Pharmaceutical and life sciences Will give best paper award in every issue in the from of money along with certificate to promote research .
Best Article of current issue
Download Article : Click here