Abstract
SOME EPIDEMIOLOGICAL STUDIES OF PLASMODIUM FALCIPARUM AND MALARIA DIAGNOSTIC METHODS AMONG STUDENTS OF BENUE STATE POLYTECHNIC, UGBOKOLO, NIGERIA.
Abel Ode Adulugba* and Victor Ugochukwu Obisike
ABSTRACT
Malaria is caused by parasites of the Plasmodium family and transmitted by female Anopheles mosquitoes. This study aimed to determine the prevalence of Plasmodium falciparum and malaria diagnostic methods amongst students of Benue State Polytechnic Ugbokolo. A total of 420 students were examined in this study. Blood samples were collected by finger prick onto clean slides and into the round sample well of PfRDTs. Thick and thin blood films were prepared for microscopic examination. The prevalence of malaria infection using microscopy, PfRDTs and combination of microscopy and PfRDTs was 35.6%, 31.7%, and 29.5% respectively. A questionnaire was used to determine some demographic factors. The Prevalence of malaria in relation to age groups, age between 16-19 and 20-22 years recorded higher infection rate of 42.2 % and 27.2% respectively. While, age group 26-28 recorded 15.8%. The result was statistically different (P<0.05). The prevalence was higher among the male students (37.1%) were more infected than in their females counterparts (21.9%), the difference was significant statistically. A significant difference (P<0.05) was observed between students that do not used malaria preventive methods (70.3%) compared to students that used combined methods of prevention ( 8.8%). Malaria still remains prevalent among students in Ugbokolo, Benue State, Nigeria. There is need to intensify campaigns on preventive and control methods.
[Full Text Article]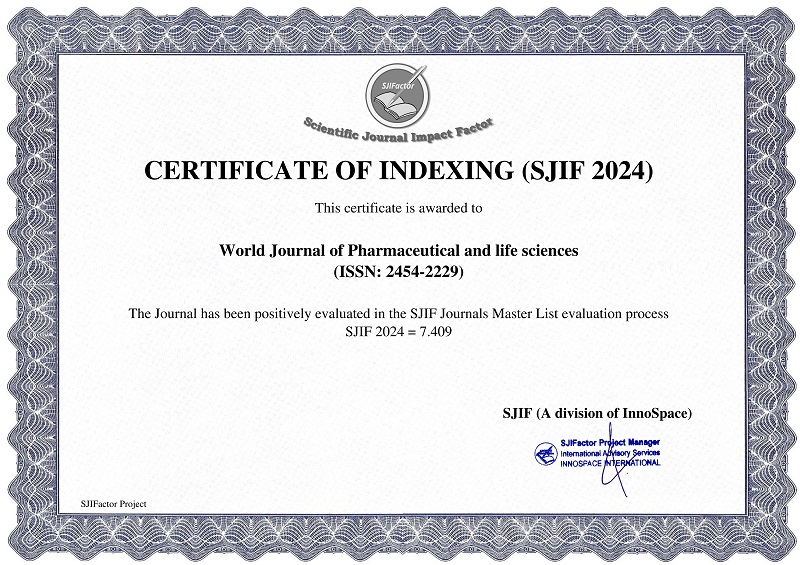 BEST PAPER AWARDS
World Journal of Pharmaceutical and life sciences Will give best paper award in every issue in the from of money along with certificate to promote research .
Best Article of current issue
Download Article : Click here