Abstract
SCIENTIFIC VALIDATION OF LEAD IN 'LEAD CONTAINING PLANTS' IN SIDDHA BY ICP-MS METHOD
*Anitha John, Sakkeena A., Manju K. C., Selvarajan S., Neethu Kannan B., Gayathri Devi V. and Kanagarajan A.
ABSTRACT
Siddha system is one of the oldest medicinal systems of India. In Siddha medicine the use of metals and minerals are more predominant in comparison to other Indian traditional medicinal systems. A major portion of the Siddha medicines uses herbs and green leaved medicines. Ancient Siddha literature specifies medicinal plants containing various metal constituents. In the Classical Text of Siddha system of medicine Gunapadam Thathu Jeeva Vaguppu, a verse narrates 11 plants as 'Lead containing'. These plants are Seethai, Muthirukanchevi, Vellaisaarvelai, Pathukai, Vaeliparuthi, Musthaiyum, Surai, Seenthil, Vizhuthi, Sirupeelai and Vellarugu. This paper deals with the scientific validation of this verse by estimating Lead in the different anatomical parts of the mentioned plants using Inductively Coupled Plasma Mass Spectrometry (ICP-MS). The anatomical parts were selected as per the usage of the plants mentioned in the Classical texts of Siddha system of medicine. Three accessions of the plant materials were studied and the results of the analysis were compared and found that all the plant materials studied contain Lead in detectable range. The Lead level of every accession of each plant material varied from one another. The Lead content was varied from 0.36 ppm to 6.65 ppm in all the three accessions of plants studied. As per the guidelines of WHO and FDA, the permissible limit for Lead is <10 ppm. In this study Lead content was observed within the aforesaid permissible limit and thereby proving the level of safety for the consumption. By this study, the ancient claim of the presence of Lead in these medicinal plants is proved scientifically.
[Full Text Article]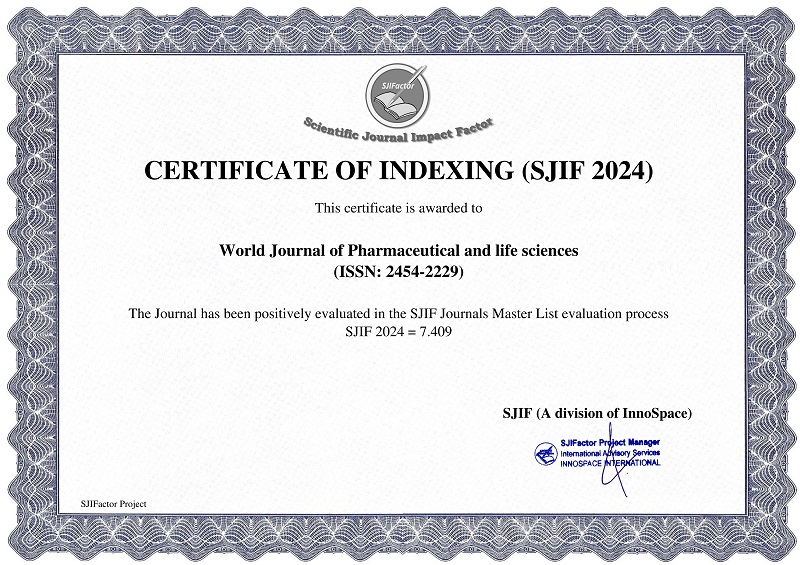 BEST PAPER AWARDS
World Journal of Pharmaceutical and life sciences Will give best paper award in every issue in the from of money along with certificate to promote research .
Best Article of current issue
Download Article : Click here