Abstract
CONSTITUENTS AND ANTIMICROBIAL ACTIVITY OF BRASSICA JUNCEA L. CZERN. COSS. (BRASSICACEAE) MARKETED IN SUDAN
Abdel Karim M.*, Abdalgader A. and Faiza I.
ABSTRACT
Brassica juncea is a herb in the family (Brassicaceae). For centuries, Brassica juncea has been used as a natural remedy. Seeds are traditionally used against rheumatism, vomiting and jaundice. Seeds, mixed with moringa olefera, is a remedy for spleen and liver diseases. In this study Brassica juncea seed oil was analyzed by GC-MS which revealed 15 constituents. Major components of the oil are: 13-docosenic acid methyl ester(43.61%); 9 12-octadecadienoic acid methyl ester(17.50%); 9 12 15-octadectrienoic acid methyl ester(12.49%);9-hexadecenoic acid methyl ester(8.11%) and cis-13-eicosenoic acid methyl ester(7.83%). The oil was assessed for antimicrobial activity against five standard human pathogens.It exhibited partial activity against Escherichia coli, Pseudomonas aeruginosa and Bacillus subtilis. However, it failed to exhibit activity against Staphylococcus aureus and the yeast Candida albicans.
[Full Text Article]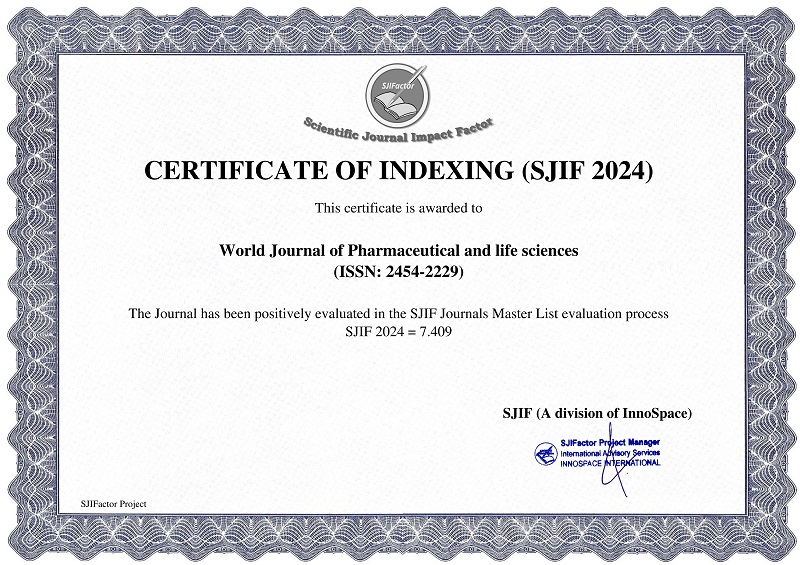 BEST PAPER AWARDS
World Journal of Pharmaceutical and life sciences Will give best paper award in every issue in the from of money along with certificate to promote research .
Best Article of current issue
Download Article : Click here