Abstract
ROLE OF DHATURA PATRA SWARASA IN THE MANAGEMENT OF INDRALUPTA (ALOPECIA AREATA)
*Dr. Swapna Swayamprava, Dr. Subrat Kumar Ojha and Dr. Niranjan S.
ABSTRACT
Introduction: Alopecia areata (AA) is silent but distressing problem which may occur to a healthy person also. In Ayurvedic approach, this condition has close resemblance with "Indralupta'. For treating this devastating condition, Dhatura patra lepa has been mentioned as one among the formulations in Ashtanga Hridaya. The main objective of the study was to evaluate the efficacy of Dhatura Patra Swaras lepa in the management of Indralupta. Methods: 22 out of 25 subjects suffering from Indralupta who attended the O.P.D. of K.A.T.S. Ayurvedic College and Hospital, Ankushpur, Odisha, completed the treatment protocol. These subjects were administered with Dhatura Patra Swaras Lepa over the scalp (quantity sufficient) applied once a day for a period of 30 days. These results were analyzed statistically. Results: The trial drug was found to be effective and showed significant results in reducing the symptoms of Indralupta. Conclusion: As per the data obtained we can conclude that the trial drug was found to be effective in the condition of Indralupta.
[Full Text Article]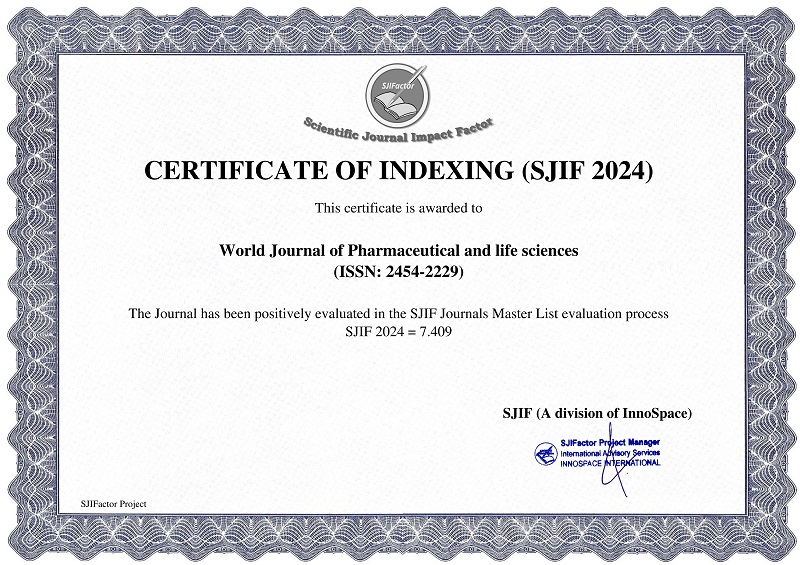 BEST PAPER AWARDS
World Journal of Pharmaceutical and life sciences Will give best paper award in every issue in the from of money along with certificate to promote research .
Best Article of current issue
Download Article : Click here