Abstract
SELF MEDICATION AMONG DENTAL STUDENTS IN TERTIARY CARE HOSPITAL OF CHENNAI, INDIA – A CROSS- SECTIONAL STUDY
V. Poongodi*, Saraswathi Gopal and Anitha R.
ABSTRACT
Introduction: Self-medication is defined as use of medicines by the individuals on their own without professional advice to treat self-diagnosed conditions. It is prevalent not only among general population but also among doctors including dentists. Aim: To assess the pattern of self-medication practice among students of a dental college of chennai city. Materials and Methods: A cross-sectional study was conducted among undergraduate dental students through convenience sampling. A questionnaire consisting of 20 questions related to various aspects of self-medication practice was handed to the students. Results: Among 234 students and total of 40.9% of respondents indulged in self?medication. Both male and female dental students equally had a habit of taking medicines on their own. The most common drugs used for self?medication were antipyretics (46.56%), followed by analgesics (40.08%), and cough syrups (18.02%). Cold (19.43%) was the major indication for self?medication, followed by (18.02%) a cough, and (16.19%) was a fever. Most common reason not to see a doctor was that there is no need to see a doctor because of a simple disease (31.58%) followed by the need for a quick relief (20.45%).The predominant guiding sources of information for students was media (magazines and internet) (38.06%) and books (39.88%). Conclusion: Majority of the dental students self-medicate themselves. Measures should be adopted to reduce such type of practice by guiding the students about the pros and cons of using medicines without prescription.
[Full Text Article]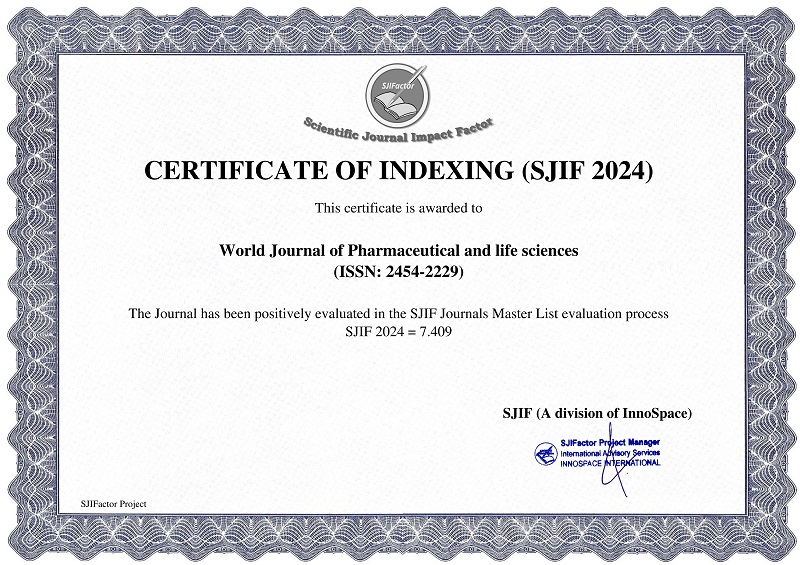 BEST PAPER AWARDS
World Journal of Pharmaceutical and life sciences Will give best paper award in every issue in the from of money along with certificate to promote research .
Best Article of current issue
Download Article : Click here